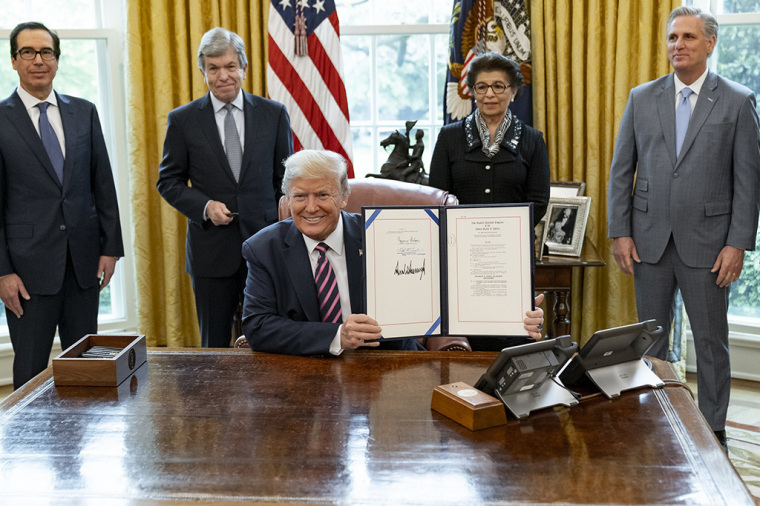 President Trump on Friday signed a $484 billion bill to provide additional funding to a small business lending program and to aid hospitals reeling under the impact of the COVID-19 pandemic and expansion of coronavirus testing as the death toll from the disease in the United States has crossed 50,000.
The legislation sets aside $310 billion for the Paycheck Protection Program, which ensures that small businesses can continue to pay employees and cover costs during this global health crisis, and $75 billion for healthcare providers and $25 billion for coronavirus testing.
"I want to thank Congress for answering my call to pass this critical funding," Trump said after signing the bill in the Oval Office, according to The Hill. The funding to replenish the PPP would help "keep millions of Americans on the payroll," he said. "Great for small businesses, great for the workers."
Out of the $310 billion provided for the PPP, $60 billion is for smaller businesses without existing banking relationships. And $25 billion for testing includes $11 billion for states.
The relief package comes after nearly weeklong negotiations between Republicans and Democrats.
Treasury Secretary Steven Mnuchin, backed by Senate Majority Leader Mitch McConnell and Republicans, had asked for an additional $250 billion for the PPP. Senate Minority Leader Chuck Schumer and House Speaker Nancy Pelosi wanted an expansion of funding to hospitals, nutrition programs, and state and local governments.
The PPP program, launched earlier this month, reached its lending limit within two weeks after approving nearly $1.7 million loans. The new funding will now ensure that millions of Americans will stay on the payroll.
Click here to read more.
SOURCE: Christian Post, Anugrah Kumar