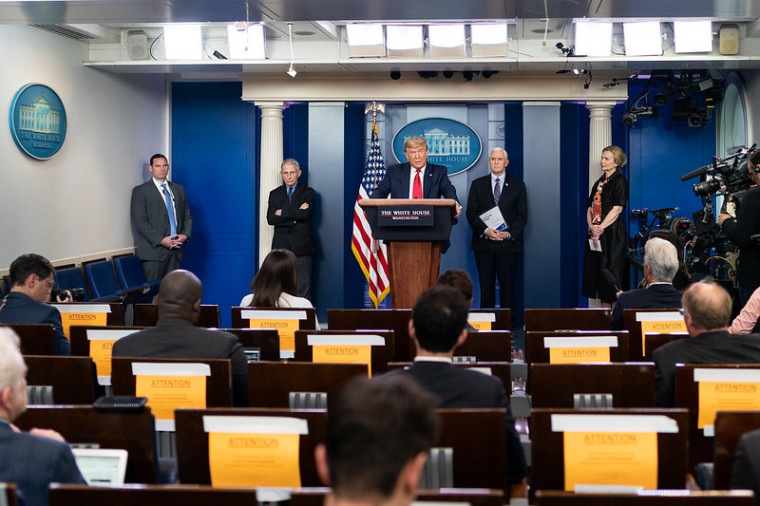 President Donald Trump said over the weekend that the Christian faith is being "treated very unfairly" during the ongoing coronavirus pandemic as state and local governments have enforced social distancing against church gatherings.  
In a press briefing Saturday, the president was asked why he retweeted an April 14 tweet from former Washington bureau chief for Investor's Business Daily Paul Sperry.
Sperry's tweet questioned whether authorities across the nation will enforce social-distancing orders for mosques during the Islamic holy month of Ramadan, which runs from April 23 through May 23.
"Yeah — no, I would like to see that," Trump said in a rambling response. "And, you know, I just spoke with leaders and people that love mosques; they love mosques, and I'm all in favor of that."
Trump seemingly criticized local governments that have enforced stay-at-home orders against church gatherings as some pastors and churchgoers in various regions of the country have been issued citations or fines for attending in-person or parking lot services.
"So I would be interested to see that because they go after Christian churches, but they don't tend to go after mosques," Trump went on. "And I don't want them to go after mosques, but I do want to see what their — what their bent is."
Trump also stated that he has "seen a great disparity in this country." He suggested that Democrats in Congress have a "very strong anti-Israel bent," especially with the emergence of liberal Reps. Ilhan Omar of Minnesota and Alexandria Acasio-Cortez of New York.
Click here to read more.
SOURCE: Christian Post, Samuel Smith