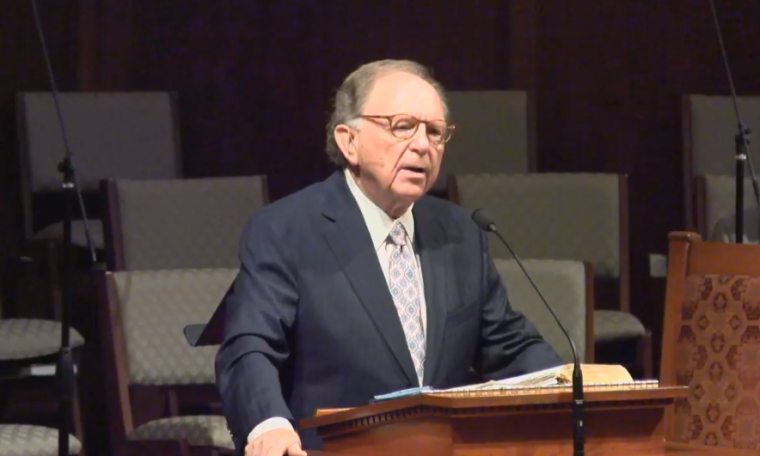 The Rev. Earl W. "Buddy" Duggins, a longtime Texas pastor, died from a heart attack on Easter Sunday shortly after delivering an impassioned sermon in which he lamented not dying with his wife, Connie, who passed two months earlier. He was 81.
Duggins, who led the Forest Home Baptist Church in Kilgore, shared near the end of his sermon broadcast on Facebook how he wrestled privately with the death of his late wife, to whom he was married for more than 59 years.
"I close with this true testimony from my heart. I prayed about it and God told me to get it," he began.
"Just about two-and-a-half months ago my wife of 59 years plus passed, died. I was by her bedside. I kissed her lips just seconds before she drew her last breath. My family was there. My girls, one of my grandsons and my son-in-law were there. We of course wept. I said these words, 'absent from the body present with the Lord,'" he said.
Over the next few days, Duggins said he put on a stoic front, even leading his wife's funeral service. After that, however, he struggled.
"I was having a difficult time sleeping. I would cry myself to sleep every night. My family stayed with me for a few nights, then I stayed over at my daughter's home for a few nights. They [would] say, 'how you doing dad?' I said, 'Oh, I'm fine.' But I would cover up my head in my little room and I would cry and cry and cry. And after a while the Lord spoke to my heart, and I began to thank God," he said.
Duggins then explained that even though he wanted to die with his wife, God explained to him why he was made a widower and it gave him comfort.
Click here to read more.
SOURCE: Christian Post, Leonardo Blair