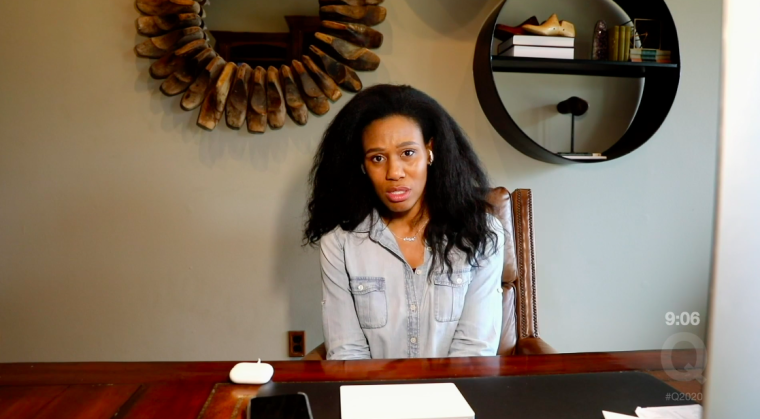 Popular speaker and author Priscilla Shirer encouraged Christians to use the coronavirus pandemic as a time to "stand firm against the schemes of the enemy," warning that Satan will use every opportunity to "discourage God's people."
On Wednesday, Shirer, the founder of Going Beyond Ministries, participated in the Q 2020 Virtual Summit, an annual event that equips Christian leaders to thoughtfully engage culture from a Christian worldview.
Opening her session, Shirer said Christians should have a perspective that gives them a way of approaching the global pandemic that is different from nonbelievers.
"God is who He says He is. He's still seated on the throne, and He is not shaken by what shakes us," Shirer said. "I don't know how people who don't have some sort of foundational bedrock level of truth in their lives are able to make it in these shaky times because everything is changing."
"So in these changing times, there has to be something that we count on that is true, that is unchanging, that does not shift with the shift in times," she said. "We've got to know our Bibles, we've got to know who our God is, and we have to anchor ourselves firmly in those truths now more than ever. That's what provides us hope, even when other people are hopeless."
Just as God can use even the worst tragedies for good, Satan similarly "will try to use everything that he can to turn it into a scheme or a tactic to discourage God's people, to dissuade them, to make them feel like they're defeated, even though we already have the victory," Shirer stressed.
"We have to then choose: Are we going to operate like victors or are we going to operate like the victims that the enemy wants to use this situation to make us feel that we are?" she asked.
When an individual embraces Christianity, they aren't just given a "ticket to eternity;" their identity is completely changed, Shirer said, adding: "That means, no matter pandemic or not, I am who God says I am, and I have access to every spiritual blessing that He has given me the privilege to access in the authority of His name."
"I get to choose: Am I going to let fear run my life? Or am I going to let the hope that comes from the position I have in Jesus run my life?" she posited. "Do we make choices out of fear, out of anxiety, out of insecurity about the future, or do we say, 'Wait a minute, that's not who we are. That's not what is wired into my spiritual DNA. I'm not going to let the enemy use this as a scheme to now make me start making decisions out of that place."
Click here to read more.
SOURCE: Christian Post, Leah MarieAnn Klett