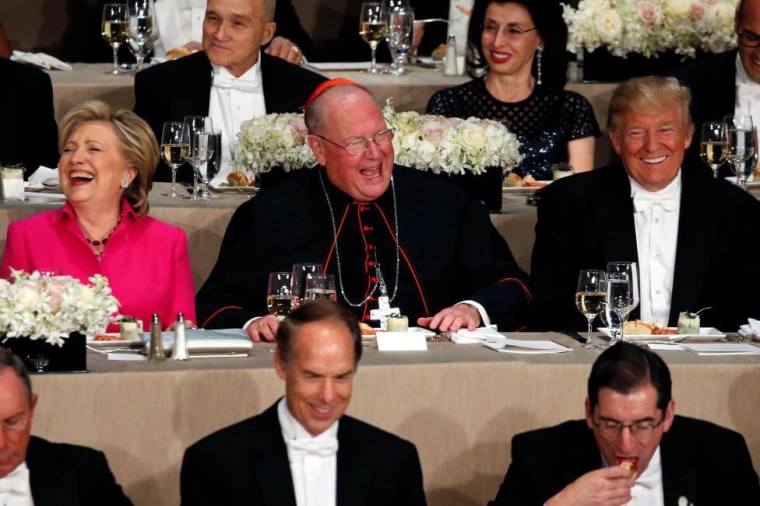 The National Catholic Reporter, a progressive "independent voice for Catholics and people of faith," has slammed Archbishop of New York Timothy Dolan for "cravenly" and "inextricably" linking the Catholic Church in the United States to President Donald Trump and the Republican Party.
The rebuke from the Kansas City, Missouri, news outlet came in a Tuesday editorial, which called Dolan out along with Cardinal Sean O'Malley of Boston, Los Angeles Archbishop José Gomez and other Catholic leaders for joining Trump and hundreds of others on a call Saturday. During that call, Dolan revealed himself as a "great friend" of the president, whom he told "we need you more than ever."
"Without a whimper from any of his fellow bishops, the cardinal archbishop of New York has inextricably linked the Catholic Church in the United States to the Republican Party and, particularly, President Donald Trump," the publication's editors said.
"With hundreds of others on the call, including Catholic educators, the bishops were once again masterfully manipulated. They previously gave Trump certain campaign footage when they delivered Catholics to his speech at the March for Life rally in Washington early in the year," the editors lamented. "Now Trump will have Dolan's language from the call, telling everyone that he considers himself a 'great friend' of Trump, for whom he expressed mutual admiration as 'a great gentleman.'"
In a report on the call by Crux, President Donald Trump called himself the "best [president] in the history of the Catholic Church" and warned the Catholic leaders that issues such as abortion and religious liberty, which "have never been more important for the Church," were at stake in the upcoming presidential election.
He also pledged support for Catholic schools whose leaders pressed him about the need for continued funding amid the coronavirus pandemic.
"Never has the outlook financially looked more bleak, but perhaps never has the outlook looked more promising given the energetic commitment that your administration has to our schools," Dolan said after Trump made about 15 minutes of opening remarks on the call. "We need you more than ever."
Click here to read more.
SOURCE: Christian Post, Leonardo Blair