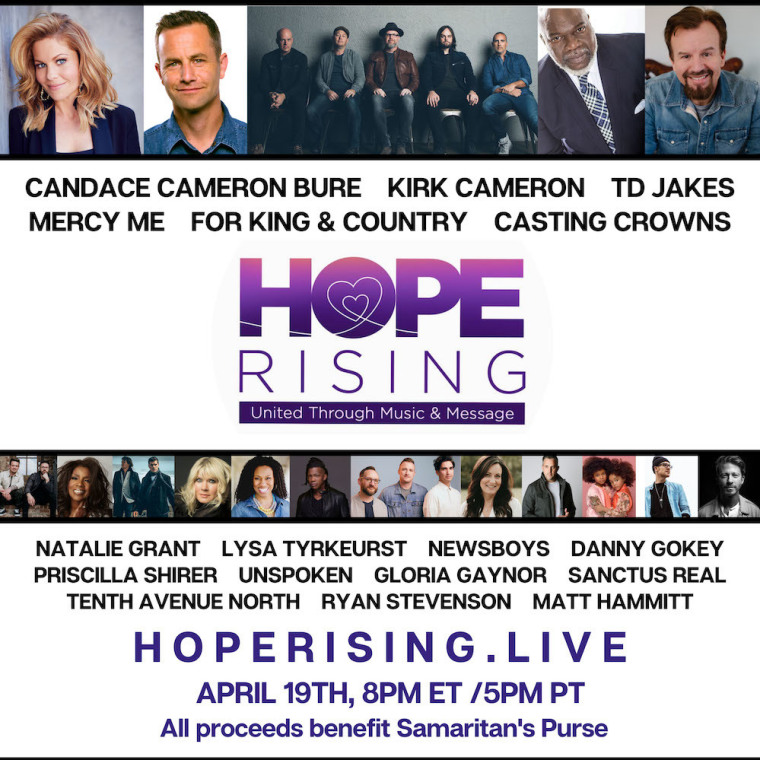 Actor Kirk Cameron has teamed up with Bishop T.D. Jakes, Franklin Graham, Gloria Gaynor and his sister, Candace Cameron Bure, for a benefit concert event to help Samaritan's Purse.
Cameron and Bure will co-host Hope Rising livestream on Facebook at 8 p.m. Eastern time on Sunday and 100% of the proceeds will go to Samaritan's Purse which set up field hospitals in both New York City and Cremona, Italy, to provide medical support to hospitals caring for patients during the COVID-19 outbreak.
The Hope Rising aims to uplift, strengthen and comfort the audience through music and inspirational messages to help combat the fear, hopelessness and anxiety that some are feeling during the lockdown.
The list of artists and speakers who will be featured in the hour-and-a-half event include: for King & Country, Bishop T.D. Jakes, Franklin Graham, Matthew West, Gloria Gaynor, Casting Crowns, MercyMe, Newsboys, Natalie Grant, Lysa Terkeurst, Danny Gokey, Tenth Ave North, Sanctus Real, and Priscilla Shirer.
The following is an edited transcript of The Christian Post's interview with Kirk Cameron in which he shares details about the benefit concert and the message he hopes everyone takes away from this season of social distancing.
Christian Post: Can you share how Hope Rising came about?
Cameron: A friend of mine and I were talking about how great it is that there have been these concerts. Elton John had a big concert online with iHeart Radio and it's good to be raising money to help people during this pandemic. But we thought, there's one big thing that's missing and that is, God. The One who is truly the healer, He's the greatest physician. He's our provider. He is the source of our health and wisdom. So let's put together a concert and start asking all of our friends if they'd help us.
CP: You have an impressive line up of people participating in Hope Rising, talk about putting all of that together.
Cameron: We have messages from pastors and bestselling authors and also music from some of our favorite contemporary Christian friends, and all of the proceeds go to Samaritan's Purse who are going to help the coronavirus victims and the first responders in Jesus name.
We started asking friends, and everybody said yes. [They] all did original messages, taped them from their living rooms or their home studios, right there in the kitchen or on the sofa. My sister Candace said that she would like to help. So we're hosting the whole event together. It's just one of the largest outpourings of goodness and love and in God's grace in the middle of a pandemic.
One of the cool things is that nobody got paid to do anything with this, nobody is getting paid.
We're so excited to have Gloria Gaynor. I used to listen to her when I was a little kid on my family jukebox, singing, "I Will Survive." She loves the Lord and she sings a song called "Joy in the Morning". TD Jakes is offering a prayer, Priscilla Shirer and Lysa Terkeurst have a beautiful message.
Because everybody is still in lockdown and sheltering in place or social distancing, Candace broadcasts from her living room, and I broadcast from my living room. So we were connected by the internet. But you see us on screen together when we're hosting.
CP: What do you think about the global pandemic from a spiritual point of view? 
Click here to read more.
SOURCE: Christian Post, Jeannie Law