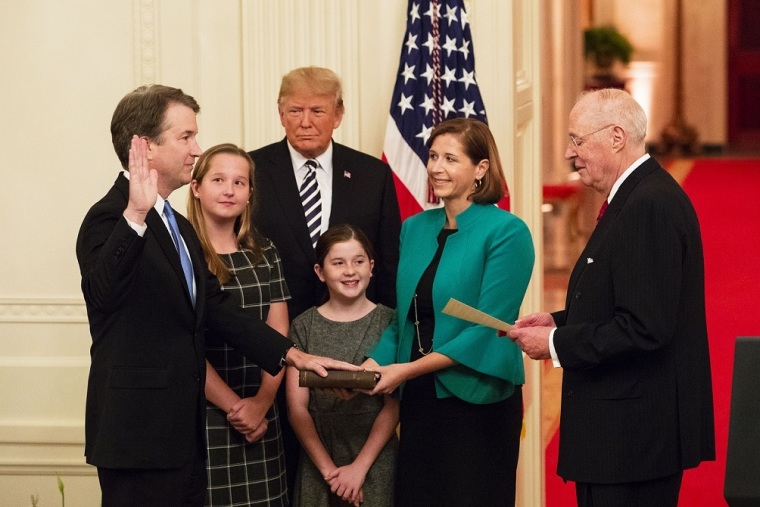 Supreme Court Justice Brett Kavanaugh cited two major abortion-related decisions in a concurring opinion spelling out when "erroneous precedents" ought to be overturned.
Monday's majority opinion, authored by Justice Neil Gorsuch, overturned a prior decision about unanimous jury verdicts, striking down state laws in Louisiana and Oregon which allowed people to be convicted of serious crimes with non-unanimous jury votes. The now-reversed 1972 ruling upheld non-unanimous verdicts in state courts. The final vote was 6-3, with a mixture of the court's conservative and liberal justices on both sides, agreeing mostly or in part with the decision.
In his concurrence, the newest member of the high court — whose contentious confirmation roiled the nation in the fall of 2018 — brought up the doctrine of stare decisis, noting that it "promotes the evenhanded, predictable, and consistent development of legal principles, fosters reliance on judicial decisions, and contributes to the actual and perceived integrity of the judicial process."
But he added, "The doctrine of stare decisis does not mean, of course, that the Court should never overrule erroneous precedents. All Justices now on this Court agree that it is sometimes appropriate for the Court to overrule erroneous decisions."
Kavanaugh brought up Roe v. Wade, the landmark 1973 ruling that legalized abortion nationwide, and Planned Parenthood v. Casey, a 1992 case that reaffirmed the core holding of Roe but challenged other elements of the ruling.
"In Casey, the Court reaffirmed what it described as the 'central holding' of Roe v. Wade," Kavanaugh explained, adding that the court also "expressly rejected Roe's trimester framework, and the Court expressly overruled two other important abortion precedents."
The justice elaborated that the tradition following judicial precedent, which is often called the doctrine of stare decisis, "is not an inexorable command," noting that "to overrule a constitutional precedent, the Court requires something 'over and above the belief that the precedent was wrongly decided.'"
Click here to read more.
SOURCE: Christian Post, Brandon Showalter