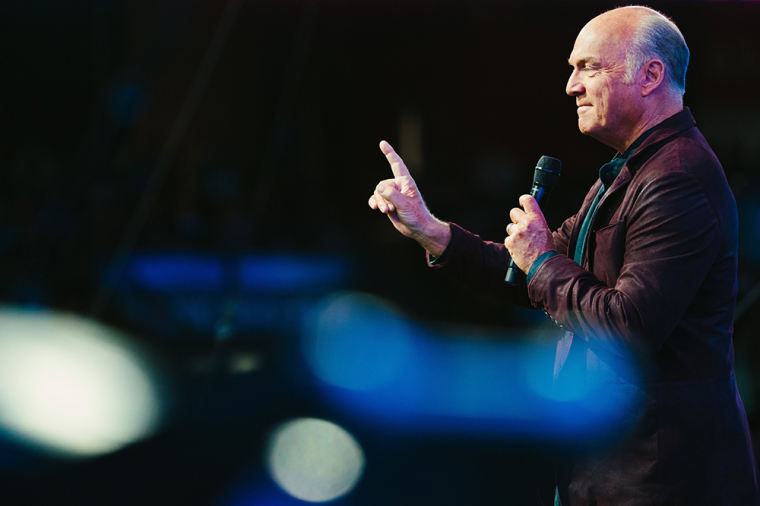 California megachurch pastor Greg Laurie's Palm Sunday webcast service drew 1.3 million people, including President Donald Trump, with 11,207 people making decisions to have a relationship with Christ.
Harvest Christian Fellowship, a multicampus church based in Riverside with campuses in California and Hawaii, said on Monday that "a lot of new people visited us" because of Trump's tweet, where he announced that he would be watching the service.
"Palm Sunday is the beginning of a Holy week for many people of Faith and a great day to lift our voices in Prayer," Trump tweeted on Saturday. "I will be tuning into Pastor @greglaurie at @harvestorg Church in Riverside, California tomorrow at 11:00 A.M. Eastern."
In a Facebook post, Laurie said that he was "as surprised as anyone" when he heard Trump say he would tune in for the service.
"I knew he might send a Tweet out about this, but I was not sure when," Laurie explained. "It's not like he does not have a lot on his plate! I am thankful the President feels it is important for us as Americans to attend Church, even if it is only online now. Thank you, President Trump!"
Laurie, known for hosting evangelistic crusades at stadiums, mentioned that Trump had hoped to join Harvest's upcoming Easter service in person but "unfortunately that has not worked out."
Although Trump said that it is "sad" that people have to watch Palm Sunday and Easter Sunday services on their computers, Laurie cited a verse from Matthew to stress that Jesus said that when 'two or more are gathered in my name, I am there in the midst of them.'"
"So we are having church in the home or wherever you are watching us," he said. "The Lord is here with us."
During the service, Associate Pastor Jason Powell said that the online response the church has received as been "unbelievable."
"We never anticipated this work that God was prepared to do," Powell said. "So what we did is we said, 'Lord, this is what we got.' We offered our fish and loaf, so to speak. God has multiplied and cast a seed far beyond what we could imagine. The past three weeks, did  you know we have had over 1 million people that have joined us online for Harvest at Home."
Click here to read more.
SOURCE: Christian Post, Samuel Smith