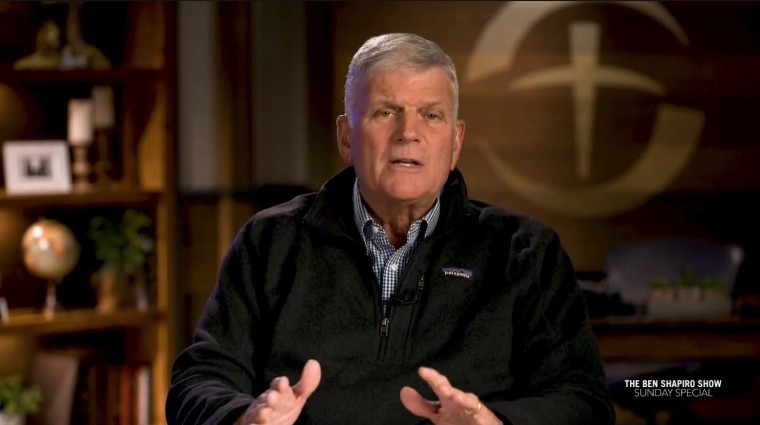 Speaking on a show with conservative commentator Ben Shapiro, evangelist Franklin Graham encouraged pastors in the United States to obey those in authority to protect themselves and others from the COVID-19 disease while continuing to do what God has called them to do.
"We don't slow down," said Graham, president and CEO of Samaritan's Purse, when Shapiro, the Daily Wire founder, asked how he, his family and organization are doing during the new coronavirus pandemic.
Shapiro also asked Graham about his perspective on state and local governments deeming churches to be non-essential and shutting them down due to the social distance rules in place. What are Christians supposed to do, as it's Easter Sunday?
"We need to obey those in authority. That's what the Bible teaches," responded Graham, son of the late evangelical leader Billy Graham. "The churches are not shut down," he continued. "I think more people are attending online services than they did when they were meeting in person."
Graham emphasized that the Church "needs to continue to be the Church."
"But I'd just encourage pastors across the country to obey those that are in authority. And I think that's what the congregations would expect us to do," he said, calling the virus very infectious and deadly. "Especially for those who have underlying health issues, this could be a death sentence," he added.
Graham cautioned that Christians should not stop "the work that God has called us to do."
We just need to do things differently, he explained. We need to be careful; "practicing social distancing is wise."
He shared that Samaritan's Purse has sent dozens of healthcare professionals to Italy, "which is not receiving help from anywhere in the world."
As of early Sunday, there were a little less than 1.8 million confirmed cases of the novel coronavirus and 108, 902 deaths around the world, according to Johns Hopkins University Coronavirus Resource Center.
Click here to read more.
SOURCE: Christian Post, Anugrah Kumar