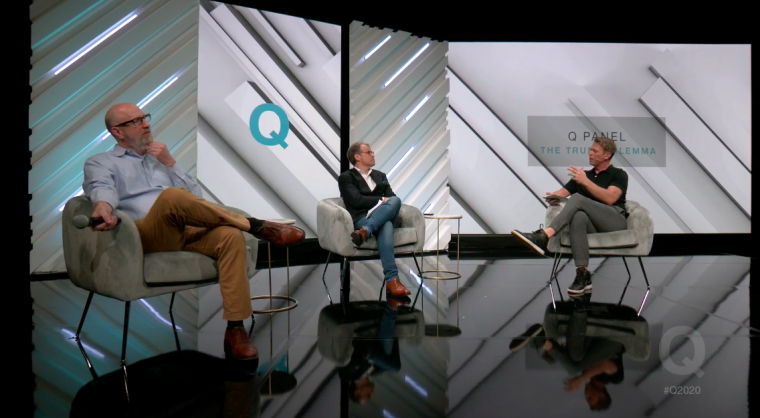 Two popular Christian figures, Eric Metaxas and David French, recently debated the evangelical case for and against President Donald Trump. 
French, The Dispatch senior editor, is a self-described conservative "Never Trumper," while Metaxas, a conservative radio host and author, has been outspoken about his support of the Trump administration.
Opening the debate moderated by Gabe Lyons during last week's Q 2020 Virtual Summit, Metaxas explained that while he "hated" and "despised" Trump before the primaries, his mindset changed as he penned an op-ed for the New Yorker "lightly mocking" the now-president.
"I began to see him differently," he said. "I was born in Queens, my family is working class. Something connected me with him, as though I was listening to a Jackie Mason or to some comedian who communicates in a different way … I began to shift and began actually to be open to the idea that maybe he could, you know, represent Americans."
Metaxas pointed out that famed theologian Martin Luther "was a maniac" who communicated in a "crazy way" that allowed him to connect with people who felt disenfranchised.
"I think when you see Trump in that context, things change," he said. "The question is, can we see him in that context?"
The best-selling author also explained why he continued to support Trump after the Access Hollywood tape dropped in 2016 containing his lewd remarks about women.
According to Metaxas, the "viciousness" of the opposition to Trump drove him deeper into his support of the then-nominee. He argued that such opposition was hypocritical, adding: "Who among us has not said horrifying things?"
"That level of viciousness blew my mind and made me think, perhaps I am missing something here. And perhaps, God chose Trump to shame the Church," he said. "The Church had not been living out its faith in a way that was changing the world, that was sacrificial … and that God, as He often does, reaches outside the camp to someone that will make our heads explode, and chooses him to shame us, to fight, because we decline to fight."
Click here to read more.
SOURCE: Christian Post, Leah MarieAnn Klett