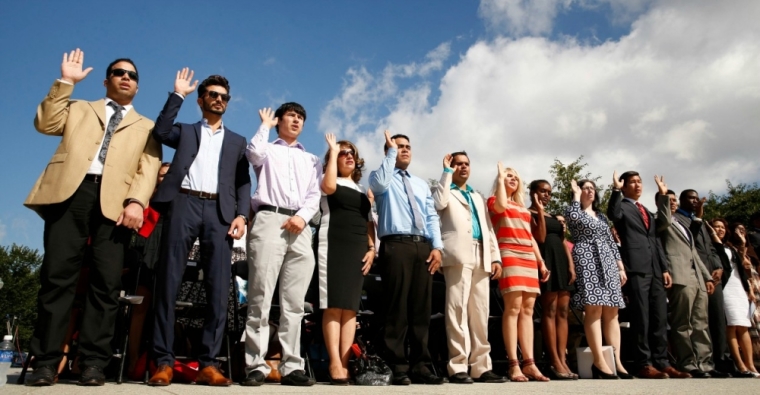 The naturalization oath for U.S. citizenship will continue to include the words "so help me God," the U.S. Court of Appeals for the First Circuit has ruled, rejecting claims that the words violate First Amendment rights of atheists.
"We follow the Supreme Court's most recent framework and apply American Legion's presumption of constitutionality to the phrase 'so help me God' in the naturalization oath because we consider the inclusion of similar words to be a ceremonial, longstanding practice as an optional means of completing an oath," the judgment states in a federal lawsuit that was filed in 2017 by an atheist, Olga Paule Perrier-Bilbo, who moved to the United States from France and applied for naturalized citizenship in 2008.
"And because the record does not demonstrate a discriminatory intent in maintaining those words in the oath or 'deliberate disrespect' by the inclusion of the words, Perrier-Bilbo cannot overcome the presumption."
Perrier-Bilbo, a resident of Massachusetts, had argued that "whether the use of the phrase is rooted in history and tradition is not a legitimate way to assess if the oath in its current form is constitutional."
Judges said the Supreme Court Establishment Clause jurisprudence "supports the district court's analysis of the challenge by reference to historical practices and understanding."
"By its very nature, an oath that concludes 'so help me God' is asserting that God exists," read her lawsuit.
"Accordingly, the current oath violates the first ten words of the Bill of Rights, and to participate in a ceremony which violates that key portion of the United States Constitution is not supporting or defending the Constitution as the oath demands," it stated, referring to clause that "Congress shall make no law respecting an establishment of religion, or prohibiting the free exercise thereof."
Click here to read more.
SOURCE: Christian Post, Anugrah Kumar