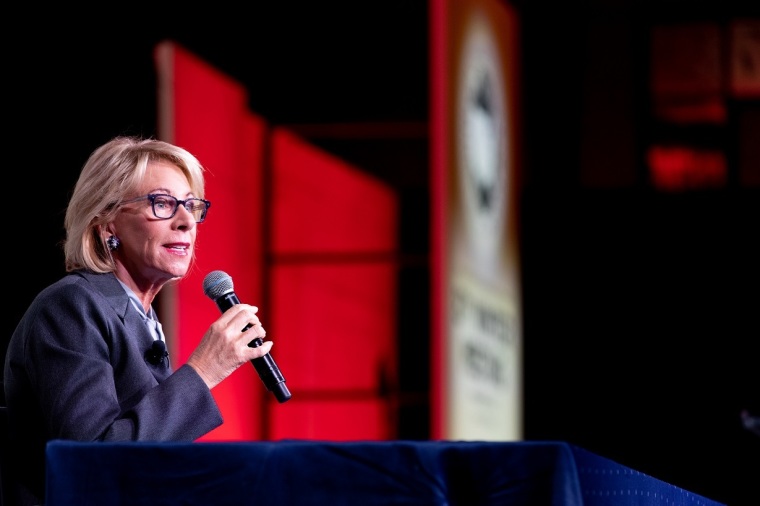 Education Secretary Betsy DeVos has doubled the size of an experimental program praised by the nation's largest evangelical prison ministry designed to make it easier for inmates to access college courses and degree programs to help prepare them for life after their release. 
The Education Department announced Friday that it has selected 67 new higher education institutions to join its Second Chance Pell Experimental Site Initiative. The new participants include at least 11 Christian and Catholic nonprofit private institutions.
The expansion allows incarcerated students to use federal Pell Grants (awarded to low-income students to pay for post-secondary education) at over 130 schools in 42 states and the District of Columbia.
"I've had the pleasure of visiting several Second Chance Pell institutions and have seen firsthand the transformative impact this experiment has on the lives of individuals who are incarcerated," DeVos said in a statement.
"By expanding this experiment, we are providing a meaningful opportunity for more students to set themselves up for future success in the workforce. The stories I've heard from students and institutions engaged in the experiment are very encouraging, and we look forward to seeing how this expansion will help even more students achieve a better future."
The temporary initiative was created in 2015 by the Obama administration in which 63 schools from 23 states were initially selected to participate in the program, 13 of which were colleges affiliated with the Council for Christian Colleges and Universities.
So far, the program has helped bring college programs to about 12,000 incarcerated individuals across the U.S. In the past three years, over 4,000 credentials, including post-secondary certificates, associate degrees and bachelor's degrees. have been awarded to Second Chance Pell students.
"Pell Grant access offers people in prison the opportunity to develop new skills and practice living as good citizens inside and outside of prison," James Ackerman, president of the evangelical prison ministry Prison Fellowship, said in a statement.
"Secretary DeVos' action expanding Second Chance Pell sites will solidify her legacy as a leader who stands up for the dignity and potential of 'the least of these' and fosters safer communities."
Click here to read more.
SOURCE: Christian Post, Samuel Smith