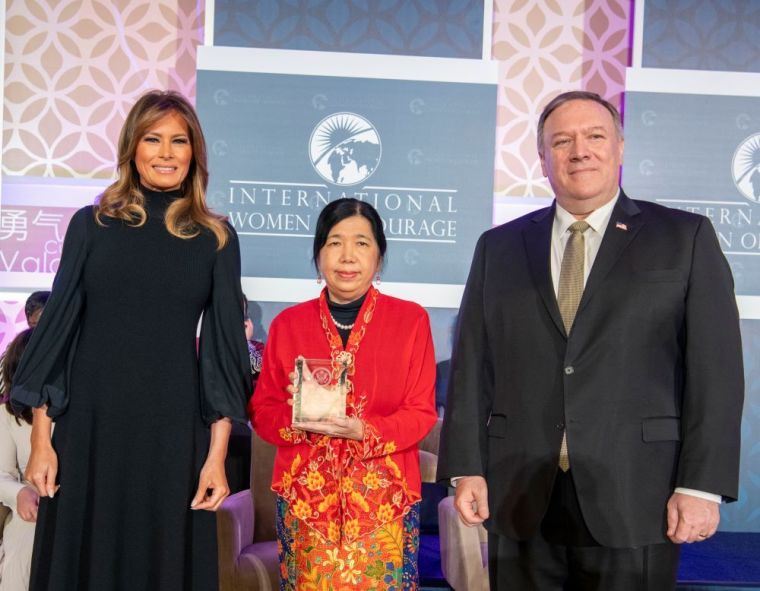 The wife of a Malaysian pastor who was abducted in 2017 was among 12 women honored Wednesday with the U.S. State Department's International Women of Courage Award.
Susanna Liew, the wife of pastor Raymond Koh, was honored by Secretary of State Mike Pompeo and first lady Melania Trump for fighting on behalf of religious minorities who've disappeared under similar circumstances as her husband and those facing persecution for their religious beliefs in Malaysia.
The International Women of Courage Award, which has been given out by the secretary of state for 14 years, recognizes women who demonstrate "exceptional courage and leadership in advocating for peace, justice, human rights, gender equality, and women's empowerment, often at great personal risk and sacrifice."
Over the years, 146 women have been honored from 77 countries.
Koh, who along with Liew founded a nonprofit to serve the poor and underprivileged, was abducted near their home in West Malaysia on Feb. 13, 2017, when three black SUVs surrounded him in his car.
The abduction was captured on surveillance cameras (watch here) but neither Koh nor his car have ever been found.
Liew pressed for answers surrounding the disappearance of her husband and others during the Malaysian Human Rights Commission's 2018-2019 inquiry into enforced disappearances. She is still calling on the government to investigate the cases and hold those responsible accountable.
Click here to read more.
SOURCE: Christian Post, Samuel Smith