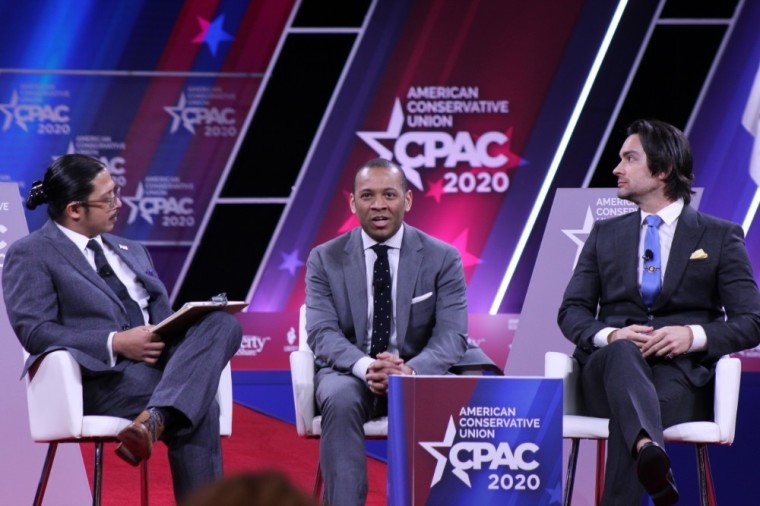 A panelist at the 2020 Conservative Political Action Conference warned Friday that being "woke" is like seeking "salvation from the mob" as liberal activists are promoting "authoritarianism" to push their political agenda. 
With the theme of CPAC 2020 being "America vs. Socialism," several panel discussions throughout the four-day conference focused on the political left's seeming embrace of socialist-like candidates, attitudes and policy ideals.
One panel discussion that took place Friday morning was titled: "Socialism & The Great Awokening." The discussion was moderated by the American Conservative Union's Communications Director Ian Walters.
Among six participants in the discussion were BlazeTV host Jon Miller, a conservative African American, and Brandon Straka, the founder of the WalkAway Campaign. The campaign encourages liberals "to walk away from the divisive tenets endorsed and mandated by the Democratic Party of today."
Miller, who penned an op-ed last year arguing that being conservative is the new black, was asked what it means when people talk about "being woke."
"That is a term that was I believe coined by Erykah Badu in 2008," Miller explained.
"It's a term that means that you are generally aware of how it is to be socially, politically correct. And, you are aware of how to talk to people, and you use the right gender pronouns, and you are accepting, and you are tolerant and you use all these crazy words like Ze and Zir to define people."
Miller warned that the mantra of "being woke" is a "way to oppress people who speak normally."
"It is a way to basically suppress people for living the way they want," Miller said. "Conservatives who basically have a more traditional worldview are being oppressed by people who want to control their language, they want to control their ideas."
The title of the panel, Miller said, is a play on the Great Awakening, a period of Christian spiritual revival that took place in the American colonies during the 1700s.
Click here to read more.
SOURCE: Christian Post, Samuel Smith