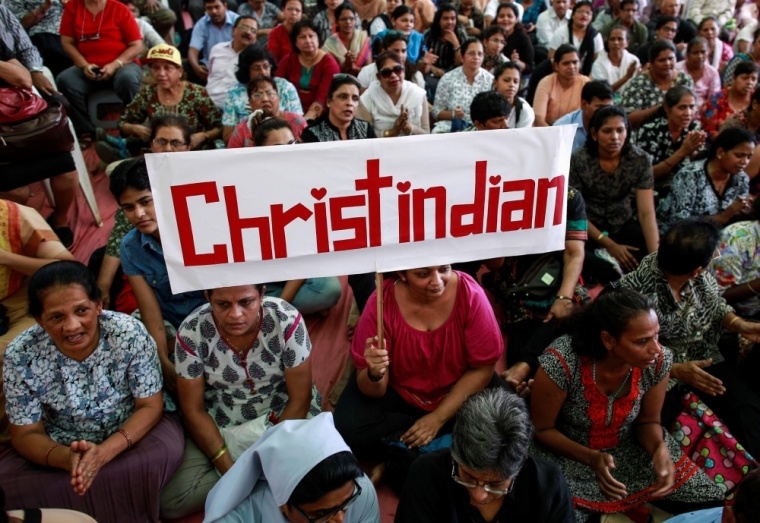 As Christian persecution continues to rise under the government of Prime Minister Narendra Modi in India, authorities in a southern state removed a statue of Jesus and 14 crosses from a Christian property after radical Hindu groups alleged the Christian center was being used for religious "conversions."
The 12-foot statue and crosses were taken down this week from Mahima Betta, a Catholic cemetery and center, in Doddasagarahalli, about 30 miles north of Bangalore in Karnataka state, according to Catholic News Agency.
Officials had recently "called all communities and said there had been complaints about conversion," J.A. Kanthraj, a spokesperson of the Archdiocese of Bangalore, told the Indian news channel NDTV. "People, however, said there was no problem and no conversion was happening. But two days ago, the tahsildar (official) brought police and a JCB loader, and without any notice, oral or written, they removed the statue and the stations of the cross."
The land has been used by local Christians for nearly 40 years without any prior issues, the U.S.-based persecution watchdog International Christian Concern said. During the Lent season, Indian Christians also use the area for the Way of the Cross and prayer gatherings.
The area's Catholic Archbishop Peter Machado said the Christians of Bangalore "consider the forceful removal of the statue of Lord Jesus at our legally allotted burial ground … as unacceptable and are greatly shocked and we condemn this high-handed action of the local authorities."
The archbishop added that there had been "absolutely no problem from local people to our burials, nor our prayers and devotions on the hill."
"While the Christians attend these prayers and devotions, the others are not forbidden to visit this place. Since about a week, some people from outside have been creating tensions by spreading wrong rumors that the place is used for conversion, which is completely far from the truth," the archbishop clarified.
Click here to read more.
SOURCE: Christian Post, Anugrah Kumar