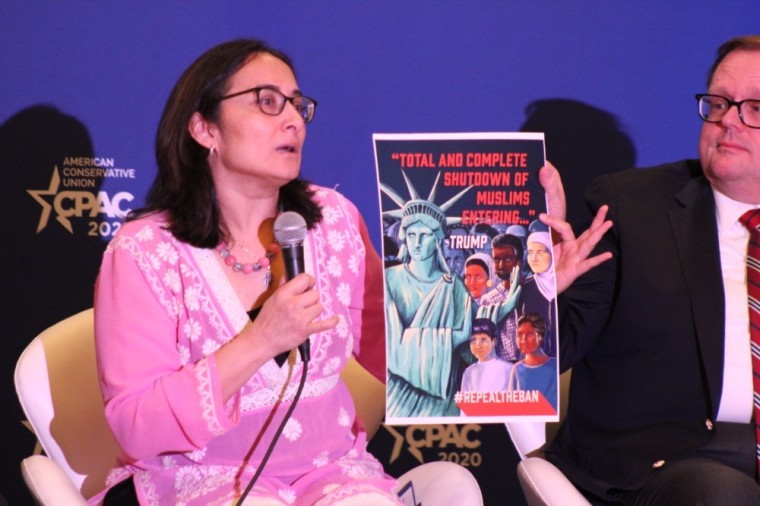 Speaking on a panel discussion at the 2020 Conservative Political Action Conference, Muslim reformer Asra Nomani offered her thoughts on the similarities between "communism" and "Islamism" as both ideologies try to squash religious freedom.
"So when you think of communism, it's an ideology, right?" Nomani asked. "And so, from my vantage point, there is another ideology that we call 'Islamism,' which is the ideology of political Islam."
"So what that means is many of you might have heard of organizations like the Muslim Brotherhood or a lot of the theocracies like in Iran that are running the state. Those are all not just about a religion of Islam, which my parents taught me was how to practice. [It] is about control over people. And that's where I think communism and Islamism are very similar."
Nomani, a founder of the Muslim Reform Movement who made headlines in 2016 when she announced she voted for Republican President Donald Trump despite being a liberal Muslim, was among several panelists who participated in a CPAC breakout session in late February titled "Without Religious Freedom, What's Left?"
Joining her on the panel were U.S. Ambassador-at-Large for International Religious Freedom Sam Brownback, conservative commentator Todd Starnes, Epoch Times Senior Editor Jan Jekielek and Sander Gerber, a fellow at the Jerusalem Center for Public Affairs.
With "America vs. Socialism" being the theme of CPAC 2020, much of the discussion focused on the threat to freedoms posed by communist China as the government has pushed the idea of "social transformation" to restrict the freedoms of different religious minority groups over the last several decades.
"It is deeply disturbing and I think the Chinese are probably the very best in the world at it," Brownback, the former governor of Kansas, said. "They have started it in several places. In Christianity, for instance, in China, they want to rewrite the Bible to make it with Chinese characters."
"They're also taking crosses down on the front of churches, taking down a picture of Jesus and putting up a picture of Xi Jinping, taking down Scripture from the wall and putting up statements for the Communist Party. And then you gotta sing patriotic songs and not hymns," he added. "That sounds like trying to change thinking behavior."
Brownback contended that China's war on faith "won't work" because "these sorts of things have been tried throughout human history."
"The Kingdom of man has often tried to take over the kingdom of God," he said. "It's never worked. It may be successful for a little while: tanks are stronger than somebody's human flesh standing there. But ultimately the Roman Empire switched when they were killing Christians earlier."
Click here to read more.
SOURCE: Christian Post, Samuel Smith