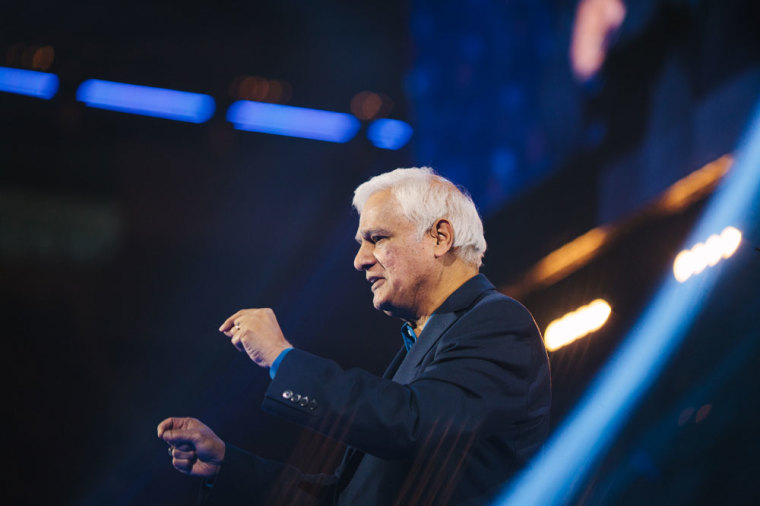 Christian apologist Ravi Zacharias has opened up about his cancer diagnosis, revealing that while he is experiencing severe pain, he believes that with the "prayers of the people and God's strength" he will recover and reenter the ministry "full-time."
"It was a shock," the 73-year-old head of Ravi Zacharias International Ministries told radio host Ben Shapiro of the diagnosis. "I had gone in for back surgery repairing some stuff that had been done some years ago and they discovered what [doctors] called something 'atypical' and it turned out to be a tumor, sarcoma, and I'll begin the treatment in a little while."
According to Zacharias, the "biggest challenge" has been the physical pain he's endured over the last few months.
"I've never felt such pain in my life," he shared. "It's night pain they call it; it's the pressure … from the tumor. We'll get through it and I'll get back on the road full-time hopefully by June or July."
Zacharias first announced he'd been diagnosed with a rare form of bone cancer in a March 12 Facebook post. The cancer diagnosis came just three weeks after he underwent back surgery.
"We are trusting the Lord in this, and we believe we have already seen evidence of His hand. For example, the tumor did not show up on any previous scans and was only discovered by my surgeon identifying it during surgery," he said at the time.
Zacharias' interview with Shapiro, host of the Ben Shapiro Show, marks the first time since the social media announcement that he's spoken publicly about his cancer diagnosis.
"I value your prayers," he told the talk show host. "I still have a journey ahead of me, but I know the prayers of people and God's strength will carry me through."
The apologist also addressed how Christians should be responding to the novel coronavirus, which has affected over 353,900 people worldwide and caused over 15,000 deaths.
In addition to causing a global public health crisis, the virus, which originated in Wuhan, China, has led to economic turmoil. States across the U.S. have shuttered schools, restaurants, bars, clubs, and transit systems in efforts to halt the spread of the virus.
Click here to read more.
SOURCE: Christian Post, Leah MarieAnn Klett