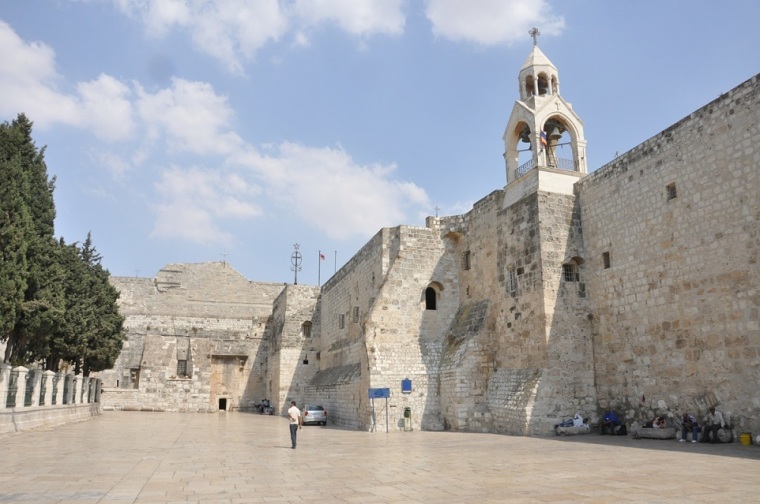 The Palestinian Authority announced Thursday that the Church of the Nativity, a site revered by Christians as the birthplace of Jesus Christ, as well as all other tourism and archaeological sites in the West Bank, have been closed after at least seven hotel workers in Bethlehem were infected with the coronavirus by a group of Greek tourists.
Hours after the announcement, Palestinian President Mahmoud Abbas also declared a 30-day state of emergency.
"We have decided to declare a state of emergency in all Palestinian areas to confront the danger of the coronavirus and prevent it from spreading," Palestinian Prime Minister Mohammed Shtayyeh said, reading from a decree from the president, Reuters reported.
Shtayyeh said he was given full authority to oversee implementation of the PA's coronavirus response and that a decision was also made to close all schools, colleges, and kindergartens as well as cancel foreign tourist reservations.
According to The Times of Israel, the tourists who are from Greece were diagnosed with the virus on their return home. Israel's Health Ministry said the tourists visited Israel and the West Bank between Feb. 19 and Feb. 27.
At least 40 people, including 14 American citizens, as well as about 25 Palestinian guests and employees, are currently quarantined at The Angel Hotel, in mostly Christian Beit Jala, The Jerusalem Post reported. The seven infected people are the first known cases of coronavirus in the Palestinian Authority.
"The Americans left the hotel this morning, but the Palestinian Tourism Police brought them back because they could not secure [another lodging] place" in the Bethlehem area, Maryana al-Arja, the manager of the hotel, noted in the report. "The seven people who are infected or suspected of being infected are inside the hotel."
Click here to read more.
SOURCE: Christian Post, Leonardo Blair