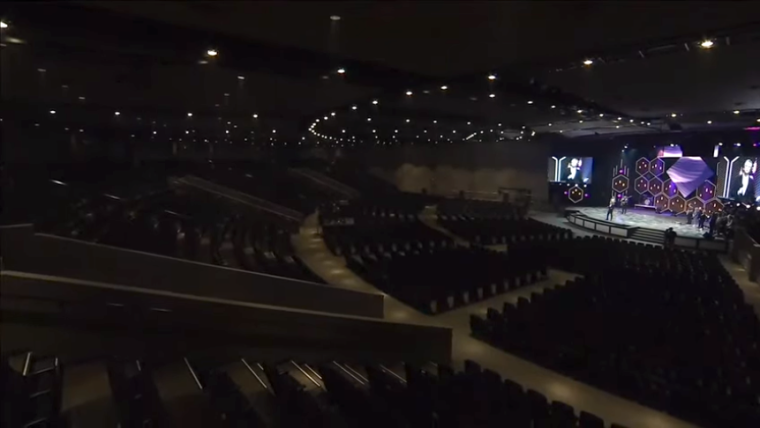 President Donald Trump was among hundreds of thousands of Christians who attended church online across the nation Sunday after he leaned heavily on Scripture on Saturday to declare a National Day of Prayer in the wake of the new coronavirus pandemic.
The online shift comes as many churches responded to a call from public health and other local and federal government officials to abandon physical gatherings to help stem the spread of the virus that has already infected nearly 4,000 people and killed 69 of them in the United States.
As of Monday morning, more than 169,000 people were infected globally and more than 6,500 of them have died, according to Johns Hopkins University.
President Trump announced on Twitter on Sunday morning that he had tuned in to the online worship service of Jentezen Franklin, senior pastor of the multi-campus Free Chapel Church in Gainesville, Georgia, who is also one of his evangelical advisers.
"I am watching a great and beautiful service by Pastor Jentezen Franklin. Thank you! @Jentezen," Trump tweeted.
Franklin acknowledged the president's online presence at the top of his message for the day, which he titled "Choose Faith Over Fear" and delivered inside the empty auditorium at the headquarters of his megachurch.
"I want to welcome all of you today to a very, very special service, we welcome you from wherever you're watching this. As you know today, we have been experiencing some things in this nation like we've never seen before, uncharted waters. And I'm standing today in our auditorium in Gainesville, Georgia, and they're going to show you that it's just a bunch of empty seats and like thousands and thousands of places of worship and synagogues, churches and all kinds of places where people are worshiping they're not there," Franklin said. "The people are not here."
Franklin made it clear that despite the shift in circumstances, the church is still in operation.
"All that's here are empty seats because the building and the seats are not the church. The people are the church. In the Old Testament, God had a temple for His people. But in the New Testament God has a people for his temple. He said I'll live in you and your body will be my temple," he said, before assuring his online audience that God is still in control.
"If you've been panicked, if you've been worried, if you've been disturbed, if you feel like the world is spinning out of control, I assure you it's not. In Job 38, the Bible said God came in a whirlwind. The whirlwind is a tornado. A tornado is something out of control. Now listen to me carefully, when God shows up in something that seems like it's out of control it's to show that He's in total control and he's God. And when He's near, the fear is dispelled in our lives. And today, there's no need for panic. But we must make a choice. You have to choose faith over fear and so today I believe that we're here by divine assignment," he said.
Click here to read more.
SOURCE: Christian Post, Leonardo Blair