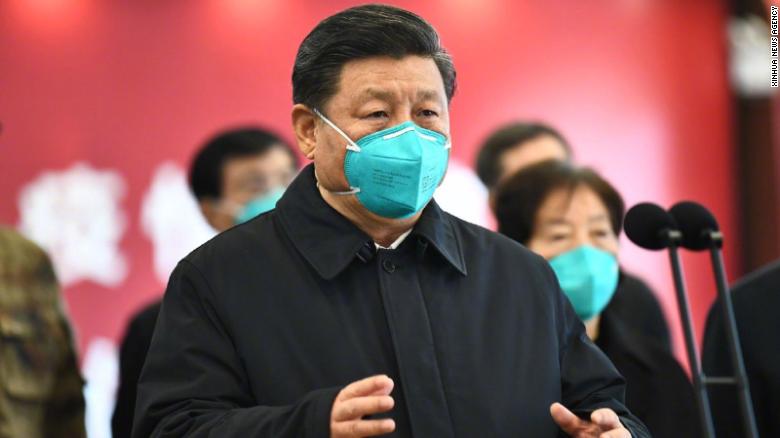 Chinese President Xi Jinping has made his first visit to Wuhan since the novel coronavirus outbreak began more than two months ago, as new cases of the virus slowed to a trickle in the country where the disease first emerged.

Xi's visit to Wuhan — which has been on lockdown for weeks now, with tens of thousands of confirmed cases of the virus and hundreds of deaths — is a major show of confidence in China's response to the pandemic, underlining a message which has been building in state media that the country has turned a corner.
As of Tuesday, there have been 80,754 cases of the virus confirmed across China, 67,760 of which were in Hubei, the province of which Wuhan is the capital. Of the 3,136 deaths confirmed in China, all but 112 have been in Hubei.
At its worst, Hubei was reporting thousands of new cases per day. On Monday, China's National Health Commission said there were only 17 new cases confirmed in the province, with two others in other parts of the country — both of which were linked to overseas travel.
The progress in China, which has come on the back of weeks of widespread travel restrictions, government enforced lockdowns and economic pain, is in stark contrast to other parts of the world, where the situation is growing increasingly dire.
Propaganda victory
According to state news agency Xinhua, Xi arrived in Wuhan Tuesday "for an inspection of the epidemic prevention and control work" in the city and surrounding province.
He "will visit and express regards to medical workers, military officers and soldiers, community workers, police officers, officials and volunteers who have been fighting the epidemic on the front line, as well as patients and residents during the inspection," Xinhua reported.
Click here to read more.
SOURCE: CNN, James Griffiths