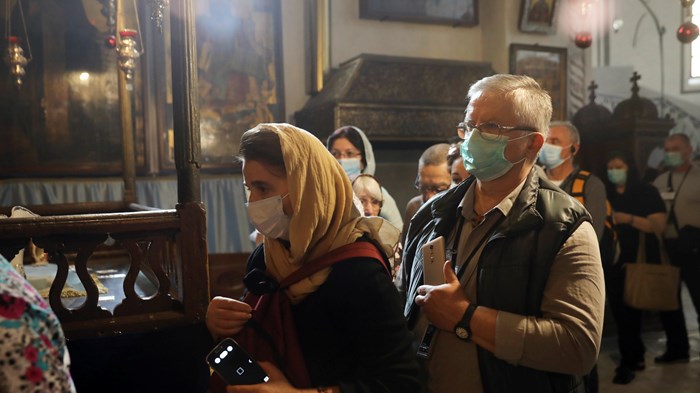 Visitors to Israel are now required to self-quarantine for 14 days upon arrival, according to safety measures implemented by the Israeli government in response to the global COVID-19 outbreak.
The new policy has put a major dampener on Easter pilgrimages to the Holy Land—where 6 out of 10 tourists were Christians in 2018—dealing yet another blow to communities heavily dependent on foreign visitors.
The dramatic plunge comes with "tragic consequences" for the region, where tourism is a significant piece of the economy, according to Munther Isaac, pastor of the Evangelical Lutheran Christmas Church in Bethlehem and academic dean of Bethlehem Bible College.
Since 2016, the number of tourists in Israel has increased each year, with a record-setting 4.5 million visiting the country in 2019 (an 11 percent increase over 2018). The industry pumped billions of dollars into the local economy.
But with 127 confirmed coronavirus diagnoses in Israel and 35 in the West Bank as of Friday—with many connected to the tourism industry—prospects for growth have been decimated.
Bethlehem's Church of the Nativity is blocked to visitors. The Dome of the Rock atop the Temple Mount is largely empty. And the Cana Wedding Chapel, a new tourist site targeting evangelicals, has seen numerous cancellations and no new reservations for the next two months.
"I'm terrified," said Saif Saboh, a Palestinian tour guide. "Any tourist could be infected." He toldThe Times of Israel that he no longer shakes their hands, and that many groups were canceling their visits.
Thousands of residents and foreign visitors are already living under quarantine. Churches and mosques have closed their doors. And the Palestinian Authority has barred all pilgrims and vacationers for at least two weeks.
As a result, Bethlehem, where 70 percent of the economy revolves around tourism, is now entirely blocked to tourists.
"The virus outbreak will ruin the city economically," said Mitri Raheb, president of Dar al-Kalima University College of Arts and Culture in Bethlehem. (The university has been closed since March 5, ordered to suspend all programs by the Palestinian Ministry of Health.)
Because more than 9 in 10 workers in Bethlehem's tourism sector are Christians, Raheb worries about the harsh toll the virus will have on the community. In Egypt, a similar nosedive in tourism following the Arab Spring devastated the economy and fell especially hard on local Christians.
"It has a direct effect on our ministry as well," Raheb said. "We depend to some extent on income from tourism. But also students will not be able to pay the tuition fees.
"We will be faced with a tough situation and we need to make some tough decisions."
Nazareth, also sustained largely by a steady flow of tourists, is faring little better as it faces a severe drought in visitors.
While the Christmas season is when families in Israel and Palestine come together and are more homebound, Lent and Easter mark the high point for tourism. But not this year.
Raheb is skeptical that any tourists will come—or even be permitted—this Easter.
"Tourism in Israel is on hold," said Yohanna Katanacho, Nazareth Evangelical College's academic dean. "But this seems to be the least of our concern at this stage."
Katanacho feared the economic impact of canceled festivals and international conferences.
But currently under self-quarantine with Isaac, the entire population of and recent visitors to Bethlehem are monitoring their coronavirus status.
Click here to read more.
Source: Christianity Today