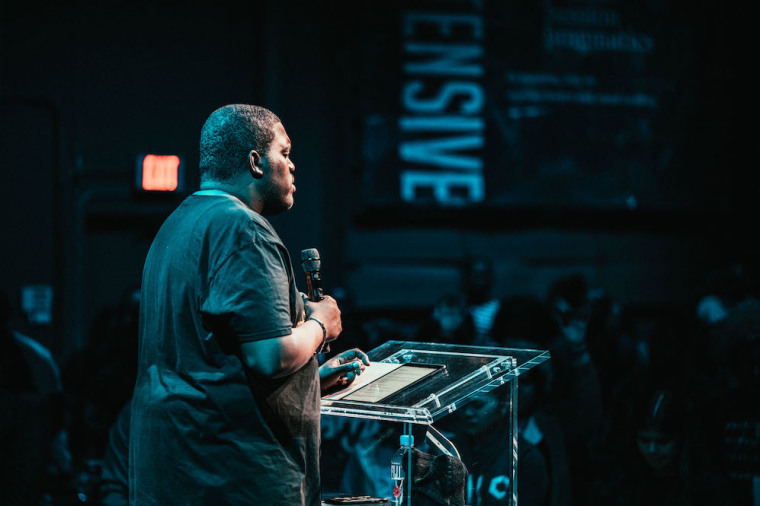 World renowned worship leader turned pastor, William McDowell, hosted his second annual Deeper Worship Intensive last week where he encouraged leaders to refrain from getting sucked into the "epidemic" of imitating others and should instead "stay hidden" in God in order to move in divine power.
"I have been sharing a weight and a burden for this gathering for months. DWI is one of the things that I know I was born for. So because of that, I carry the weight of this assignment," McDowell told the hundreds gathered from several nations at the conference.
The Billboard-topping singer told the pastors and worship leaders gathered that he believes Christians are "either growing or dying, there's no in-between." He said many people in leadership are emulating what other leaders are doing and they are not receiving from God on their own.
"What I see is that we have a lot of people imitating things that they see. I want to say imitation is not necessarily, inherently bad. It was Paul that wrote in 1st Corinthians twice, 1st Corinthians chapter four and in 1st Corinthians chapter 11, he said, 'Imitate me, as I imitate Christ.' There was a sentiment that there is an OK nature to imitation when it's done right," McDowell stressed.
He added, "The problem is that there is a lifestyle that accompanies this call and the expectation of Heaven and the world as a result of this call. I'm going to endeavor to talk to us about Heaven's expectation because I want you to know that there is a divine expectation for the gift you've been given."
"There is something that we are required to do as a result of this gift that we've been given. So many of us do our best to imitate what we see. But I want to share something with you, the issue with imitation without a relationship with God is that it can lead to trouble and confusion. The greater problem with that, is that you won't discover what's in you or what's not in you until you are actually in the moment where you need it," McDowell maintained.
"Here lies the problem with imitation, because if you're imitating something that's not actually in you and you find yourself in a circumstance where you need it, you're going to have trouble," he continued.
The Ohio native, who has five critically acclaimed albums, including his latest Billboard-topping album, The Cry, then quoted a story told by the Apostle Paul in the book of Acts chapter 19 in the Bible.
In this account, Paul shared how he was used mightily by God which even allowed him to transfer healing and deliverance to others by sending handkerchiefs as a point of contact. Then the story introduces seven others, named the sons of Sceva, who were just imitating followers of God and were overpowered by a demon because they had no authority in God for themselves.
"The issue with imitation without Christ's proximity or relationship is you can actually enter into a circumstance, or a situation, or a moment, or a service, or a time in which there is a requirement for what's supposed to be in you. But it's not actually in you because you've been imitating without relationship," McDowell warned.
The 43-year-old minister said social media has heightened people's ability to copy others only for the sake of showing one's mountain top experience.
"We are the generation that loves to watch YouTube videos, and loves to watch live streams, and loves to buy videos and listen to music. We get up there and we close our eyes, but instead of worshiping, we're actually trying to imitate or pretend like we're the person we watched. … Completely not present to the moment, all trying to recreate that moment that's not even here. [That's] imitation," McDowell maintained.
He looked out in the crowd and said, "Many of us are attempting to do this without genuine relationship and I want you to know, that the issue with that, is that you won't know that it's not in you until you need it," he exhorted.
"Scripture says to us that the genuineness of faith is proven in trial. The genuineness of faith is not proven on the mountaintop. The genuineness of faith is proven in trials, which is to say to us that we won't actually know until we're in it."
McDowell said "one of the major pitfalls of the social media age" is that it can potentially remove one of the most important and vital aspects of God's process, which, he said, is "preparation" developed by "hiddenness."
Click here to read more.
SOURCE: Christian Post, Jeannie Law