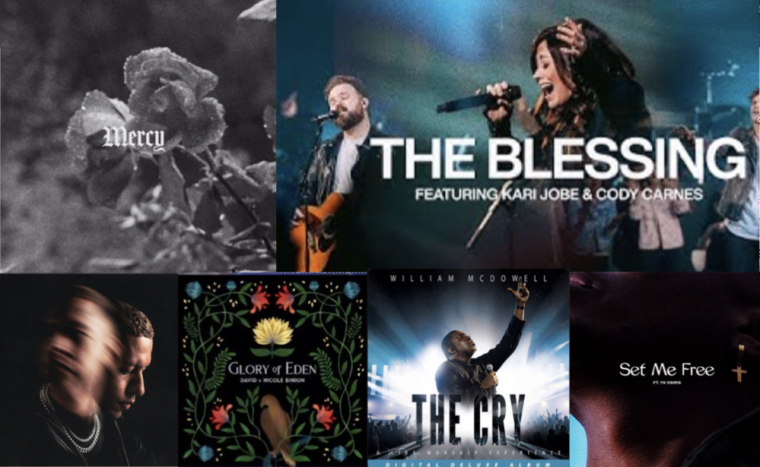 As Americans nationwide self-quarantine and avoid gatherings of more than 10 people, as the Trump administration has advised to combat the coronavirus pandemic, The Christian Post put together a list of new and inspiring songs to listen to that will lift your spirits. 
'The Blessing' by Kari Jobe and Cody Caines
People across the U.S. are turning to entertainment to keep themselves amused while in quarantine. In the midst of TicTok videos and singing or dance challenges flooding social media, Christians are enjoying Elevation Worship's latest release "The Blessing" performed by Kari Jobe and her husband, Cody Caines.
The track was written by Jobe, Carnes, Elevation Church pastor Steven Furtick and Elevation worship leader Chris Brown.
"The Blessing" was taken "straight from Scripture and it's the heart of the Father for His kids," Jobe says in a video of the live performance.
'Christ our Hope in Life and Death' by The Gettys
Another couple known for their world-renowned worship music, The Gettys, released a new Easter hymn titled, "Christ our Hope in Life and Death."
Keith and Kristyn Getty collaborated with Matt Boswell, Jordan Kauflin, Matt Merker and Matt Papa to compose the new hymn. The song is meant to draw on deep theological questions, "reminding Christians throughout the world of the hope that can be found in Christ's death and resurrection," a statement shared with The Christian Post explained.
'Set Me Free' by Lecrae and YK Osiris
Christian hip-hop artist Lecrae teamed up with mainstream artist YK Osiris for a song that he said will spread hope amid the global pandemic that has some people crippled by fear.
"In times like these, we need a little (or a lot) of encouragement," Lecrae wrote on Instagram.
He added, "Let's be free from fear, free from darkness, free from whatever shackles that bind us."
The Grammy award-winning artist dropped the new single and then teamed up with Atlanta charity Love Beyond Walls to install portable sinks throughout Atlanta for the homeless. The reason was to help slow the spread of the coronavirus among those in his city.
"When people living on the street don't have the means … we should step in to wash their hands.#Setmefree #corona," he wrote on Instagram.
'Mercy' by Seth & Nirva 
Another husband-wife duo, Seth & Nirva, released their new single "Mercy" before the global pandemic made headlines and the song seems to be the prayer needed at this time. As well as being a personal prayer, the song is a cry of repentance on behalf of America the couple said.
Seth & Nirva's new single, "Mercy," models the book of Psalms from the Bible as the psalmist cries out for God to show up and have mercy on the land. The couple said God continues to remain merciful although we as a people deserve wrath.
"We have definitely crossed into the danger zone that the prophet Isaiah warned us about long ago of calling 'evil good, and good evil,'" Seth & Nirva told The Christian Post in a recent interview.
"When you think of the 60 million plus innocent human beings we have legally killed in the womb since Roe v. Wade, and how we are indoctrinating elementary school kids with the sexual anarchy propagated by radical LGBTQ activists, it's a wonder God hasn't blown us off the map," they added.
"When we wrote this song, we did get the sense that although the lyric literally refers to an individual person praying, at a deeper level it represents the land itself crying out for mercy.
"In this sense, we aren't just asking for forgiveness, but we are asking God to come and bring correction and justice. To draw the leaders responsible for this evil to repentance, or to remove them and bring judgment upon them if they refuse."
'The Cry' by William McDowell 
Billboard-topping gospel singer William McDowell released the deluxe digital version of his latest album, The Cry, this week, with live videos to go along with wash song. The music leader, who's also a pastor, has made a career of leading people into a deeper shout of worship.
The title track of the album is a beckoning to God and a declaration of perseverance in faith. The deluxe album was released at a time where Americans were asked to take enhanced precautions and practice social distancing to help stop the spread of coronavirus. McDowell refrained from announcing the deluxe release until Friday.
"It was released during all of this news about the virus worldwide and it never felt like the right time to say anything about it," he shared on Instagram. "The well being of everyone is far more important than trying to 'promote' something so I didn't say a word. However, I want you to be able to see this worship experience."
Click here to read more.
SOURCE: Christian Post, Jeannie Law