Having finished his Sunday sermon from Psalm 18 on God as a stronghold who delivers his people from their enemies, Enoch Adeboye then led them to a cemetery.
It was an ironic yet appropriate choice.
Wearing a bright green tuxedo, the General Overseer of the Redeemed Christian Church of God (RCCG) in Lagos, Nigeria, marched three miles yesterday holding a placard that declared: "All Souls are Precious to God."
Adeboye and his congregation, one of the largest in the world, answered the call issued by the Christian Association of Nigeria (CAN) for a three-day fast this past weekend, concluding in a prayer walk. Based on reports from its state chapters and local media, CAN estimates 5 million people marched in 28 of Nigeria's 36 states on Sunday.
"Though we have protested before, this event took a new dimension," CAN president Samson Ayokunle told CT.
"With one voice, we said 'no' to killings, 'no' to security negligence, and 'no' to the persecution of Christians in Nigeria. It is a wake-up call to the government."
Launched on January 29 to protest the beheading of Brethren pastor Lawan Andimi, the chairman of a regional CAN chapter in Adamawa state, by Boko Haram two weeks earlier, the prayer was also a protest at the Nigerian government's failure to stop the abductions and killings.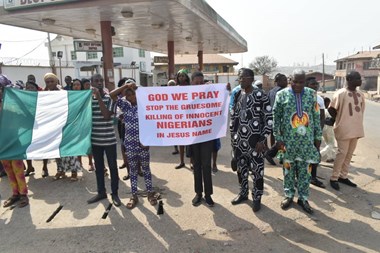 Terrorist attacks, as well as clashes between mostly Muslim herdsmen and mostly Christian farmers, resulted in more than 100 deaths in January alone.
"Lord, have mercy on Nigeria, let there be peace and security," said Adeboye. "God sees all things and knows where the terrorists are hiding.
"We pray that God send his light to Nigeria and expose the evildoers in the country."
In the perspective of CAN, these reach into the upper levels of government.
"O Lord, in Jesus Name, expose all the government functionaries and security chiefs who have compromised and who are giving vital information to the terrorists, killer herdsmen, and kidnappers in the country," stated No. 11 in CAN's 22-point prayer guide for the fast.
"All the suppliers of ammunition to the insurgents, we pray that you our God would expose, no matter how highly placed they may be."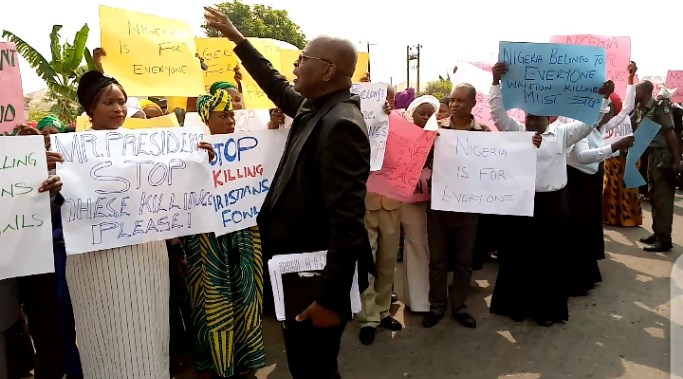 Adeboye previously had a reputation for refraining from such critical activity. Some politicians rejoiced that he took a stand, noting that Nigerian Vice President Yemi Osinbajo is a member of his congregation.
"For [Adeboye] to stick his neck out, when the government respects him, will surely cause them to take notice," said Gideon Para-Mallam, the Jos-based Africa ambassador for the International Fellowship of Evangelical Students. "That he—and others—would say, 'We need to be a part of this,' is significant."
Para-Mallam, who recently testified about sub-Saharan Christian persecution at the World Economic Forum in Davos, Switzerland, noted other high-profile church leaders joined the march, including: Obed Dashan, council vice president of the Church of Christ in Nations (COCIN), one of Nigeria's largest denominations which claims 8 million members; Benjamin Kwashi, a Jos-based Anglican archbishop and general secretary of GAFCON; and Soja Bewarang, chairman of the heads of church denominations in Plateau state.
"They had to come out, because they are seeing bloodshed become a daily occurrence," Ayokunle told CT. "The greater participation is due to a greater frustration."
CAN has frequently called out the government of President Muhammadu Buhari—and has been accused by Buhari's administration of politicizing the issue.
John Ibenu, CAN chairman for the Middle Belt state of Kogi, home to many herder-farmer clashes, defended his organization.
His state witnessed 27 deaths in January.
"When people are not performing the duties for which they are employed or appointed, they must give way for others to come in," he stated. "CAN will not tolerate ineptitude and will not be silent because we must be the voice of the voiceless and down trodden.
"We are the moral custodian and conscience of the society."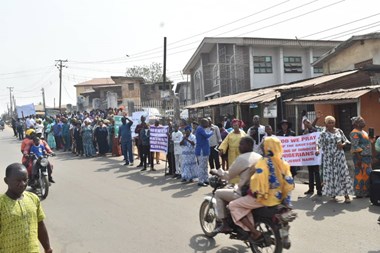 Day 1 of the three-day fast called on Nigerian Christians to confess and repent of their sins.
Day 2 called on God to pour out his spirit for revival.
Day 3 called for the prayer walk, asking God to fight their battles.
"Our very existence as Christians in our dear nation Nigeria has never been at stake as it is now," stated Stephen Baba, president of the Evangelical Church Winning All (ECWA), one of Nigeria's largest denominations which claims 10 million members.
Endorsing CAN's call for fasting, he recalled the story of Esther.
"It is very clear that the spirit of Haman, whose avowed aim is the complete extermination of Christians, is viciously at work in this nation and the government."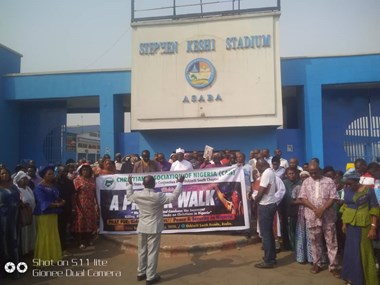 Apart from counter-terrorism, Nigeria is also attempting to reform captured militants. More than 2,000 Boko Haram members have repented and been released back into society, a move criticized by many.
Nigerian Senate Minority Leader, Enyinnaya Abaribe, pushed President Buhari to resign.
The president pushed back in an op-ed submitted to CT.
"We owe thanks to the Nigerian defense forces—bolstered by our partnership with the British and American militaries—that we are winning this struggle in the field," he wrote.
"But we may not, yet, be completely winning the battle for the truth."
Buhari praised the faith of Andimi and committed himself to freeing the remaining 160 Chibok schoolgirls.
But he emphasized that 90 percent of Boko Haram's victims have been Muslim.
"These now failing terrorists have targeted the vulnerable, the religious, the non-religious, the young, and the old without discrimination," he wrote.
"Yet sadly, there is a tiny, if vocal, minority of so-called religious leaders—both Muslim and Christian—who appear more than prepared to take their bait and blame their opposite number."