Temperatures in the Chihuahuan Desert lowlands were steadily hitting triple digits in the last days of June as a small group of Congolese men, women, and children waded into the Rio Grande in the Mexican city of Ciudad Acuña. Midway across a weary, 31-year-old man named Gauthier looked up toward the riverbank on the other side, in Del Rio, Texas. Several US Customs and Border Patrol were waiting.
Waiting, he hoped, to guide him and his fellow travelers toward asylum in the United States.
The Congolese raised their hands in surrender and were loaded into vans that would take them, ever so briefly, into the custody of the US government. After two days—a mere formality of registering their presence in the US—the hungry and exhausted travelers would undergo what they prayed was the final leg of their escape from war and violence.
They had varying destinations in mind. But most of them were bound for Portland, Maine, where they knew they would find a critical mass of French-speaking Africans.
What they didn't know exactly was how they would get there from Texas. Or that lining the routes was an invisible network of ministries, anonymous hands waiting to deliver them food, showers, and travel assistance. Or that in one of the least-churched cities in America, a small but scrappy community of both white and Central African believers was already waiting for them.
Del Rio, Texas
The Customs and Border Patrol (CBP) sector in Del Rio is one of the agency's sleepier offices on the Southwest border, in part because the city of Del Rio and its Mexican counterpart, Ciudad Acuña, are surrounded by hundreds of miles of desert. But by June it was already doubling and tripling its usual monthly apprehensions.
Families and minors fleeing violence in Central America were being joined by migrants from nearly 50 other countries, including more than 700 from African nations including the Democratic Republic of Congo (DRC) and Angola. Migrants requesting asylum are given appointments for interviews with immigration officers or judges, but the process of making their case and awaiting final decisions can take months, if not years.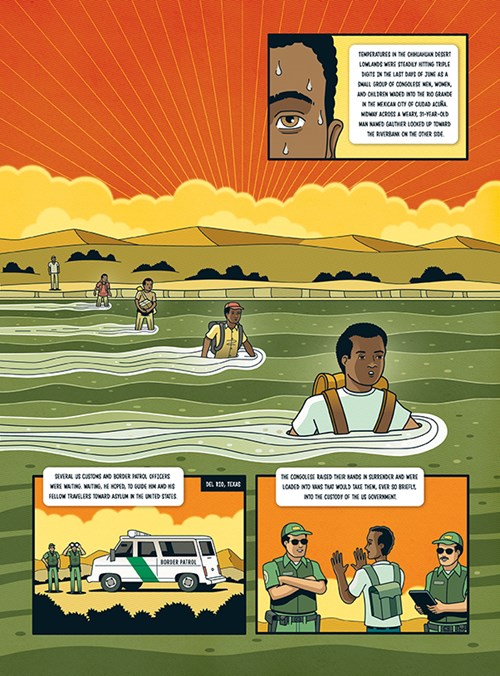 Image: Peter and Maria Hoey
With so many applicants to house, processing centers and detention centers were running out of room. What little remained needed to be saved for those deemed potentially dangerous.
With nowhere else to turn, the sector knew it would have to start releasing families and detainees without criminal records.
"We saw this coming, where we knew we were catching too many people," CBP Del Rio sector assistant chief patrol officer Brady Waikel said. "The whole system was coming to a breaking point. So we started making plans."
The problem, he explained, is that Del Rio, population 36,000, is not where most people want to be released. Compared to other communities in Texas, Del Rio doesn't have much to offer migrants in the way of community or social services. Or rather, it didn't, until CBP reached out to several churches in May of this year.
"We weren't particularly looking for a faith-based group," Waikel said. "That's all there was here."
A group of four churches answered the call. Shon Young, an associate pastor for outreach at City Church Del Rio, likened the process to building a plane while flying it. No sooner had the group gained access to a City of Del Rio neighborhood facility—a warren of narrow hallways now lined with donations spilling out of ersatz stock rooms and offices, and a large gym now lined with cots and space for children to play—than immigrant families were being dropped off there by CBP.
As the number of detentions surged into June, the loose coalition realized it would need to formalize its relationship and form a nonprofit. Meeting the needs of up to 100 people per day required more resources than the churches had. Supplies, from toothbrushes to cots to food, were depleted quickly.

Image: Peter and Maria Hoey
So the four churches formed the nonprofit Val Verde Border Humanitarian Coalition, enabling them to receive more donations, among other benefits. That's when things started to take off, Young said. "God has used people from all walks of life."
For instance, in June, a San Antonio blogger wrote about the effort, and the post was seen by actor Misha Collins, who then tweeted a donation link to his 2.9 million followers. Boxes and boxes from the group's Amazon wishlist began arriving in huge trucks.
In late July, Samaritan's Purse reached out, as it did to churches and faith-based nonprofits in eight other border cities, to infuse support. With shower trucks and food prep trucks used in disaster relief, Samaritan's Purse provided badly needed facilities until the coalition could make more permanent arrangements at the community center.
While the center only takes women and families, Young also found ways to help some of the single migrant men—connecting them with other places to rest, shower, and eat a meal before continuing on their journey. The stories of the Congolese men moved him. Their journey had been long, brutal, and difficult to imagine in today's globally connected world of ubiquitous leisure travel.
"It actually reminded me of when Israel was in the wilderness," Young said. "The way they were going was uncharted, and they didn't know if the direction they were following was right or wrong. It must have stretched their faith, how they would overcome one obstacle just to be met with another. And how discouraging it must have been when they came across the people who didn't survive."
The center has become an invaluable part of the immigration system in Del Rio, Waikel said. "We need them," he said. "If it wasn't for them these people would still be being released, but they'd just be released on the street."
Del Rio is no more than a first stop for most migrants entering there. "I have yet to hear of any of them say that this is where they want to be," Waikel said.
Most, he explained, are in route to somewhere farther from the border. "They're wanting to be in other places in New York, in Maine, in other locations that have their friends and family."

Image: Peter and Maria Hoey
A major part of the coalition's ministry is to help the newly arrived immigrants figure out their route to their final destination. Most need help navigating the series of buses and planes they will need to take.
Portland, Maine, has become the destination of choice of French-speaking Central Africans. The city doesn't have the largest Congolese immigrant community in America, but it has extended an explicit welcome to the most recent wave of asylum-seekers. A stable community of Congolese has gathered there over the decades as fighting between rebel groups in DRC has displaced 4.5 million people inside the country and driven 800,000 more out of its borders.
But next up on this 2,300-mile journey would be San Antonio, the closest major city, 150 miles away.
San Antonio, Texas
Waiting to embark on the journey to Maine, Gauthier sat on the sidewalk outside San Antonio's Migrant Resource Center. He had made it this far, after a long and grueling journey from the DRC that finally led him across the Rio Grande into Del Rio and now to San Antonio.
Gauthier, who asked that his last name be withheld for his safety, does not have much to say about why he left his home in Kinshasa.
"There is much difficulty, much war," he said in French. "It has led to much death."
The US has long taken on refugees from the DRC. The Migration Policy Institute reported that 25,000 Congolese (though not all refugees) were living in the US as of 2016. In 2018, 7,878 were admitted as refugees—the largest single group that year. The Trump administration has steadily slashed the number of refugees allowed into the country—for 2020 it has set a historically low limit of 18,000.
Those who want to become state-sanctioned refugees must apply through international organizations, and their cases generally trickle through bureaucracies and waitlists in a process than can last years. The few who are admitted (less than one percent of refugees worldwide have been resettled to designated host countries) are flown to US destination cities, where they are placed in an apartment or house and given financial assistance until they can find a job.
The vast majority of refugees around the world, however, are stuck in camps and other temporary living situations, often still well within reach of the violence that drove them from their homes. Gauthier and hundreds of other Congolese refugees were quickly losing hope for refugee resettlement. So they decided to try their luck and request asylum in the United States. But they had to get there first.
Gauthier, a single man, had escaped the DRC in 2017 and was living in hiding just outside the country. In the spring of 2019, he boarded a flight for Ecuador.
Once there, Gauthier and roughly 200 others began a grueling journey north. Some of them paused for a longer respite in Ecuador and Colombia. On the coast of Colombia, they split into smaller groups to board boats that transported them to Panama.
From there, the travelers had to brave the Darién Gap, a grueling stretch of jungle and mountains separating Colombia and Panama. Some died in the dense tropical wilderness, where food and water were scarce and armed bandits lay in wait. Many of the migrants shared stories of rape, robbery, and violence throughout the journey, but especially in the Darién Gap.
Those who made it through followed a now well-trodden but perilous path through Costa Rica, Nicaragua, Honduras, Guatemala, and Mexico, hitching rides where they could, paying for bus rides when they had the money.
There would be only around 10 people in Gauthier's group when he made it to San Antonio.
As he told his story, Gauthier fiddled with the paper wristband given to him by the City of San Antonio. It identified him as an immigrant, entitled to meals, restroom access, a help desk for logistical questions, and a bed at Travis Park Methodist Church.
Click here to read more.
Source: Christianity Today