Fox News Poll: 49 percent favor impeaching Trump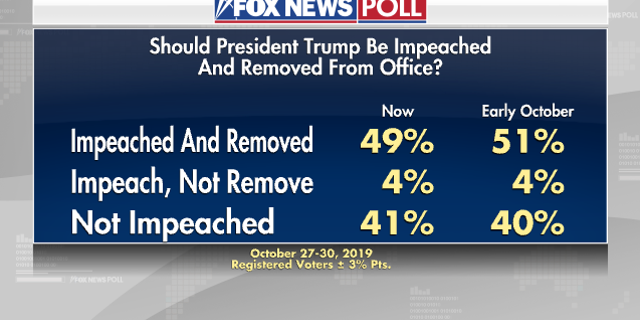 Nearly half of voters want President Trump impeached and removed from office, according to a new Fox News Poll. In addition, 6-in-10 believe the president did ask foreign leaders to investigate political opponents — and two-thirds say that action is inappropriate.
Forty-nine percent want Trump impeached and removed from office, 4 percent say he should be impeached but not removed, and 41 percent oppose impeaching Trump. That's about where things stood in early October, when 51 percent said impeach/remove, 4 percent impeach/don't remove, and 40 percent opposed altogether.
The two-point dip in support for impeachment comes from a 5-point decline among Republicans, as 8 percent favor impeachment now, compared to 13 percent in early October.
More voters believe Trump asked Ukraine to probe his rivals (60 percent) and that he held up military aid as pressure to get what he wanted (52 percent), than favor impeaching him for doing so (49 percent).
Among those opposing impeachment, 57 percent say nothing could change their mind, while 34 percent say new evidence could make them support impeachment. Overall, that means about one-quarter of voters will not support impeachment under any conditions.
Click here to read more.
Source: Fox News
---
NBC/WSJ poll: 49 percent now back Trump's impeachment and removal
Exactly one year out from the 2020 general election, a majority of all Americans — or close to it — support impeaching President Donald Trump and removing him from office, disapprove of his job performance and back his top Democratic rivals in head-to-head matchups.
Those are the findings from the latest national NBC News/Wall Street Journal poll, which was conducted amid the House Democrats' impeachment inquiry against the president, after Trump's decision to withdraw U.S. troops from Syria, and after the military raid that killed the leader of ISIS.
Despite those grim numbers for Trump, the poll also contains silver linings for the president, including more than 50 percent who approve of his handling of the economy and a GOP base that remains loyal to him, with nine-in-10 Republicans opposing his removal from office. That party support is a crucial factor given that an impeachment conviction in the Senate requires a two-thirds vote.
"At this very early stage of the impeachment inquiry the data suggest a path for victory for Trump with the judges in the Senate," said Democratic pollster Jeff Horwitt of Hart Research, who conducted this survey with Republican pollster Bill McInturff at Public Opinion Strategies.
"But there's a much more challenging road ahead come next November with the judges at the ballot box," Horwitt added.