The world was shocked on Easter Sunday as bombs targeting churches led to the loss of hundreds of innocent lives in the island nation of Sri Lanka.
An updated death toll Tuesday morning shows that over 320 lives were lost and over 500 others injured during the suicide bombings that occurred at three churches (two Catholic, one Protestant) and three hotels where celebrating Christians were having their Easter brunches in Colombo, Batticaloa and Kochchikade.
Sri Lanka's state minister of defense, Ruwan Wijewardene, said on Tuesday that the attacks were "carried out in retaliation" for last month's shooting at two mosques in New Zealand. Fifty were killed in that massacre.
There were a total of nine bomb blasts and seven suicide bombers, according to Sri Lankan authorities, six of which were simultaneous.
At least 39 tourists were killed in the attack, including at least four American nationals, who among them was a fifth-grade student at a Washington, D.C., private school. Twenty-eight other foreign nationals were wounded in the bombings.
Investigators and security analysts have said that the plan was carefully targeting Christians in church or staying in hotels for the holiday, The Wall Street Journal reports.
A state of emergency went into effect Tuesday, giving the military war-time powers.
As many as 40 suspects have been arrested in connection with the bombings, according to the Associated Press. Authorities also discovered dozens of more detonators at a bus station in Colombo.
Many are left with questions as to why there was no public warning issued as it's been revealed that the Sri Lankan government was presented with the intelligence of possible attacks on Christians many times prior to the bombings.
In the following pages are five things to know about Sunday's bombings and the history of violence and political strife in Sri Lanka.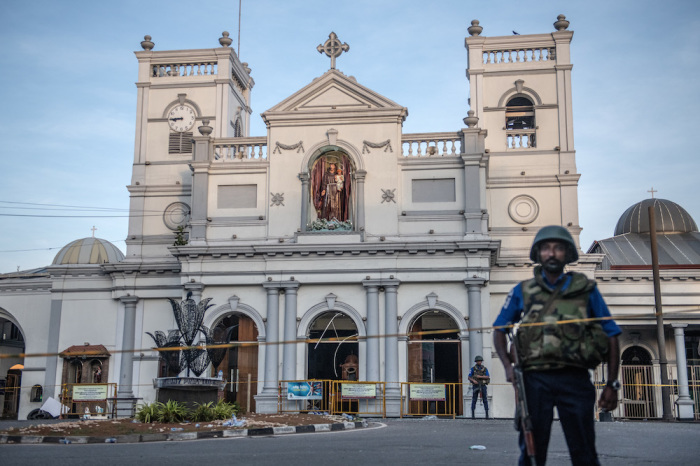 1. Who's to blame?
It was suspected by officials initially that the bombings were carried out by bombers having ties to the little-known Islamic terror cell Nations Thawahid Jaman (there are variants to the spelling of the group's name), an outfit that had previously defaced Buddhist statues. However, no group has yet claimed responsibility for the attack.
Health commissioner and cabinet spokesman Rajitha Senaratne, stated Monday that they have "found that NTJ was involved in the attacks."
Police spokesman Ruwan Gunasekera told media on Monday that the government will not disclose details on the suspects involved in the bombings in order to prevent them from gaining publicity for their cause.
He would only confirm that "suicide bombers" carried out the attacks. Officials also disclosed that the suspects were all from the minority Muslim community, according to the Hindu Business Line.
According to the Wall Street Journal, government officials also suggested that whoever carried out the Easter-morning attacks had assistance from more experienced international terror organizations — quite possibly groups like al-Qaeda or the Islamic State  — because of the sophistication of the attacks.
"We do not believe these attacks were carried out by a group of people who were confined to this country," Senaratne explained. "There was an international network without which these attacks could not have occurred."
"We don't see that only a small organization in this country can do all that," Senaratne added. "We are now investigating international support for them and their other links — how they produced the suicide bombers and bombs like this."
International terror expert Raffaello Pantucci of the Royal United Services Institute for Defence and Security Studies agrees.
"This attack took a lot of planning, which is surprising for a group that most have never heard of," Pantucci told the Wall Street Journal. "That makes me suspect that there is an external link, and Islamic State or al-Qaeda are the obvious suspects."
Rohan Gunaratna, of Singapore's S. Rajaratnam School of International Studies, told the Wall Street Journal that only two of the 41 Sri Lankan Muslims that traveled to join the Islamic State in Syria have returned while others have worked to radicalize others back home and elsewhere in India. Researchers believe that the NTJ has been a channel for some of the radicalization.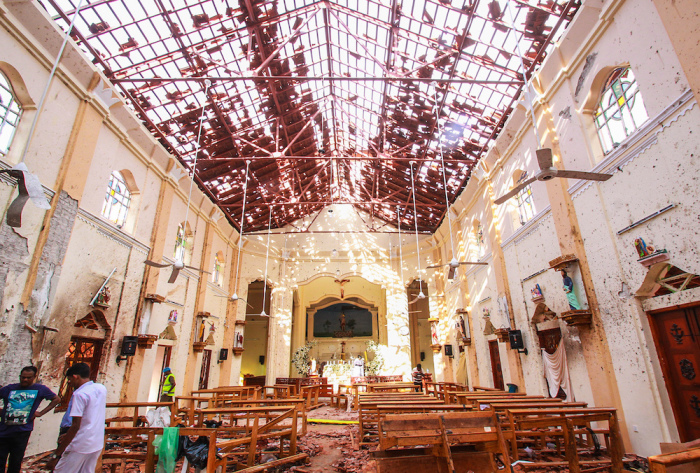 2. Government warned of possible attacks on Christians weeks before
Senaratne said Monday at a press conference that foreign intelligence passed on intelligence that "such an incident will take place in this country" in early April.
"In those detailed reports, they have said that the targets are the Christian and Catholic churches, and also the tourist destinations, hotels," Senaratne explained.
According to Al Jazeera, the defense ministry shared intelligence with the police chief on April 9 that included the terror group's name. CNN reports that one memo compiled by security officials even gave a list of suspects thought to plot such attacks.
On April 11, Deputy Inspector General of Police Priyalal Dissanayake issued another memo about the potential attacks on churches and that was circulated widely to security services and government ministries, according to CNN.
Senaratne also told reporters that foreign security agencies continued to issue a warning before the attacks. He claimed one report came about 10 minutes before the bombings began.
"Unfortunately, despite all these revelations by the intelligence units, we could not avert these attacks," Senaratne explained. "We are responsible. We are very sorry and we apologize to everybody."
The Wall Street Journal notes that international experts have regarded fundamentalist group like NTJ as being more focused on agitating over local Muslim grievances, while more established terror groups like IS and al-Qaeda have regularly reached out to smaller terror groups in other parts of the world.
Click here to read more.
Source: Christian Post