Rising 825 feet over the skyline of Atlanta, Stone Mountain is the most-visited destination in the state of Georgia. On its north face, a carving in the granite wall depicts three figures central to the Confederacy: Robert E. Lee, Jefferson Davis, and Stonewall Jackson.
Against this backdrop, observers might have puzzled over the scene unfolding on a recent Saturday at the top of the monument. An ethnically diverse crowd of more than 3,000 people, the majority under age 30, sang as a full rock band led the crowd in Christian praise songs.
Nearly all lifted their hands, shouted, and even danced as pop-rock worship music blasted from speakers. Then a black man in a bright red shirt with white letters reading Reconcile took the mic.
"Heaven is among us," said Jonathan Tremaine Thomas, a young pastor from Ferguson, Missouri. "The kingdom of heaven is at hand."
Thomas was followed by civil rights leader John Perkins, who was followed by apologies from Christian leaders to two Jewish leaders for the history of Christian anti-Semitism, who were followed by declarations of forgiveness for Dylann Roof by family members of Charleston church shooting victims. And this was all in the first 150 minutes.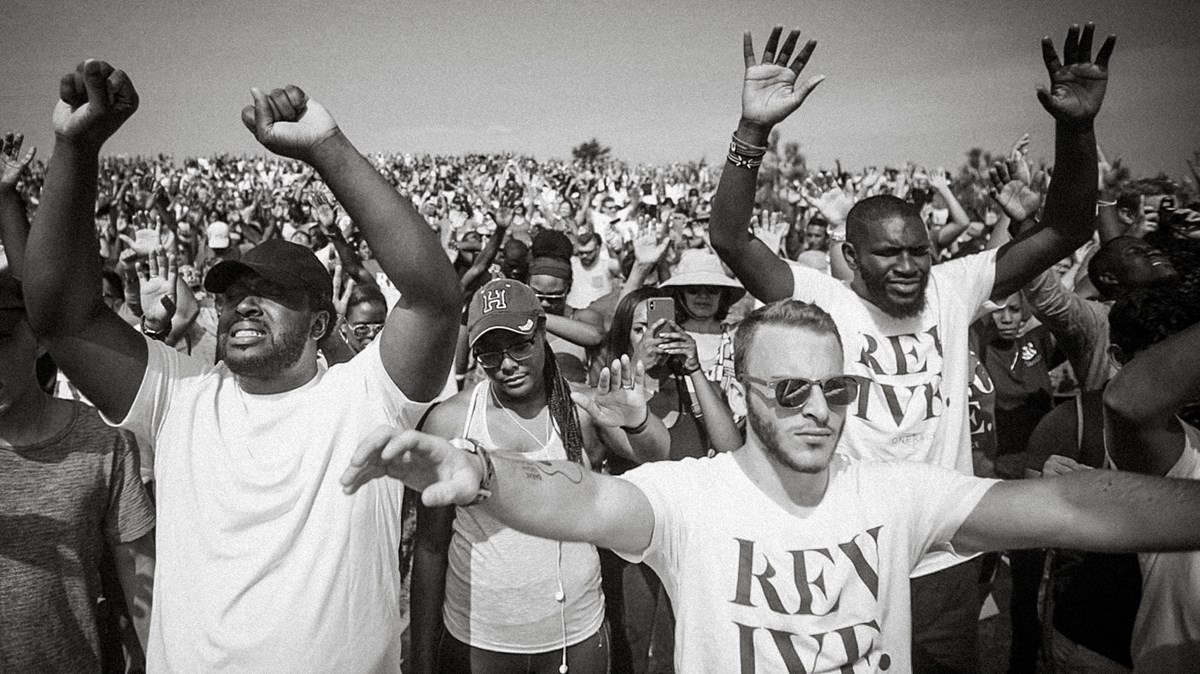 Image: Ashley Stephens / Courtesy of OneRace Movement
Over the rest of the day, at the base of the mountain, gospel artists performed and local pastors prayed at an assembly that lasted eight hours. Park officials estimated that the entire event attendance drew between 22,000 and 25,000. At the end, the crowd took communion together at the "table of brotherhood," a nod to Martin Luther King Jr.'s 1963 speech.
The day marked the climax of two years of preparation by the OneRace Movement, a group that has brought 560 Atlanta-area pastors together in pursuit of reconciliation and revival.
"We believe we are in a divine moment," said Billy Humphrey, co-director of OneRace. "The Lord wants to eradicate racism and dead religion in every form in the church. He wants to expose blind spots of prejudice, privilege, bitterness, and fear. The answer to division and hate is the gospel of Jesus Christ."
"A Divine Moment"
OneRace began in spring 2016 when Bishop Garland Hunt, who leads the Father's House, an Atlanta-area congregation rooted in the black Protestant tradition, hosted a few local pastors following a small conference for young adults.
Hunt has strong ties to the civil rights movement. Growing up in Atlanta, he knew Martin Luther King Jr.'s children and was close friends with the son of King's Christian mentor Ralph Abernathy. As a student leader at Howard University in the late 1970s, Hunt introduced black icons Kwame Ture, Ron Karenga, and Nation of Islam leader Louis Farrakhan when they spoke on-campus. He says his allegiance to black power activism shifted when he "gave his life to the Lord" later in life.
Nearly four decades later, Hunt convened a small group of men—both white and black—at his church to discuss how to engage emerging generations with the gospel. The issue of racial unity quickly surfaced.
"To reach millennials, let's start a movement," Humphrey, who is white and attended the initial meeting, later recounted.
Humphrey had long sensed that God was telling him to focus on Atlanta's long-complicated relationship with race and religion. A longtime Atlanta resident, in fall 2003 Humphrey visited the International House of Prayer in Kansas City to understand the vision for 24/7 prayer. While there, he received a phone call from a man encouraging him that he, too, felt God had a special plan for Atlanta's leadership and spiritual revival. This calling felt confirmed when Humphrey was sent an audio tape with the same message.
"I was blown away," Humphrey later said in a video recounting the "prophetic storyline" of the movement.
The director of the International House of Prayer–Atlanta, Humphrey saw a convergence between the vision he had for Atlanta and the hundreds of committed (and mostly young) adults who attended his church.
"Let's lock arms together and lead 300 pastors to the top of Stone Mountain to renounce racism," said Humphrey. "We'll lead millennials in it."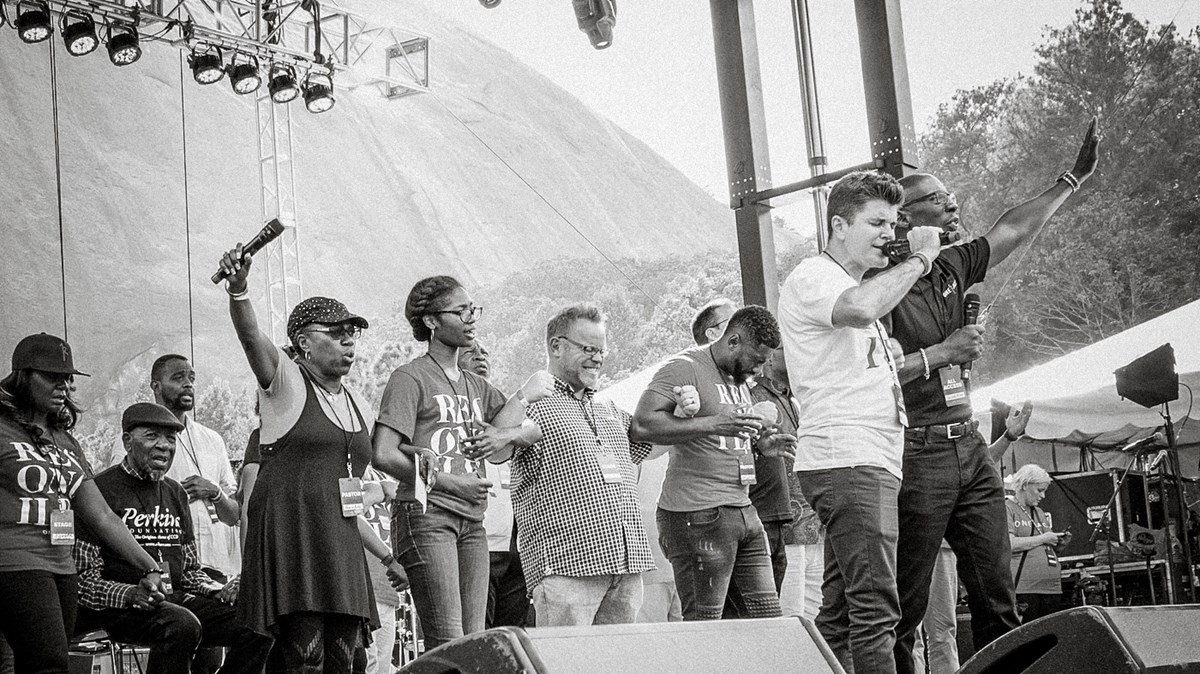 Image: Taylor Foster / OneRace Movement
Hunt liked Humphrey's idea. Over a decade prior, the charismatic minister had been youth pastor to Hunt's son. Soon, the core team, which now included local pastors Scott Free and Corey Lee, two faith community organizers Hazen Stevens and Josh Clemons, and creative talent recruiter Natalie Brown, came together under the leadership of co-directors Hunt and Humphrey. Free's wife Tami came up with the name OneRace, inspired by the mandate in Acts 17:26. Within weeks, a massive effort to mobilize local churches was underway.
"We worked diligently to build relationships through pastors' small groups that meet monthly," Humphrey said. "Personalities took a back seat and Jesus remained the center. From those groups, depth of relationship began to be born. Through prayer, in that context, divine ideas are formed."
The two met weekly with their growing core team, strategizing how to bring other churches into the OneRace fold as they encountered denominational and historic ethnic divisions. The co-directors credited Clemons and Stevens, who knocked on dozens of church doors while looking for partners, as "the feet behind the vision."
Hunt recalled how they sometimes met black, white, and Hispanic pastors who ministered in the same neighborhood but had never met.
"We encouraged pastors of different backgrounds to host lead-up prayer meetings across the region," he said. "Suddenly, they began to eat together, fellowship together, and care about each other. In true relationship, racial healing begins."
By the beginning of 2018, OneRace had connected with over a hundred congregations, including historic Friendship Baptist Church (the city's first black Baptist church), the Anglican Diocese of the South, King Chapel AME, the Vine Methodist, Creflo Dollar's World Changers Church, and several Hispanic congregations including Iglesia del Dios Vivo.
"As we pursued the racial healing message, we tried to be sensitive to the orthodoxy of the different groups," Hunt said. "A very large Presbyterian church in our area hosted meetings with pastors, which did not have a charismatic flavor at all. They ended up being a major supporter of what we did."
Click here to read more.
Source: Christianity Today