It wasn't that Memorial Christian Hospital in southeastern Bangladesh had no warning.
Steve Kelley, a surgeon at the Baptist facility, got a call from Doctors Without Borders on a Friday afternoon last August.
"He was stammering," Kelley said of the German physician on the line. The facility for the medical aid group also known as Médecins Sans Frontières (MSF) was about 30 miles south of Memorial Christian, in a Rohingya refugee camp near the border of Myanmar.
"He described hundreds of dead and dying pouring across the border," Kelley said. "It was a humanitarian nightmare. [MSF] was up to their eyeballs very quickly."
The situation—which United Nations High Commissioner for Human Rights Zeid Ra'ad al-Hussein called "a textbook example of ethnic cleansing"—began the day Kelly got the phone call, Friday, August, 25, 2017, when Rohingya militants allegedly attacked 30 police stations in western Myanmar and killed 12 security force members.
The Rohingya, a Muslim minority living under almost constant persecution in Buddhist-majority Myanmar, lost their right to citizenship under national law in 1982—and with it, their access to health care, education, and police protection. Few have jobs, and many are banned from leaving their villages.
Their attack against Myanmar police involved handmade weapons. The Myanmar government was furious. In retaliation, soldiers spent weeks killing 6,700 Rohingya (including 730 children under five). They raped women and girls. They burned 288 villages. And along the nearby border with Bangladesh, where the refugees were fleeing, they laid landmines. (By some accounts, this "clearance operation" began before August 25.)
In just over two weeks, 300,000 refugees had fled across those land mines to Bangladesh. A week later, the number was up to 400,000. Three and a half weeks later, 500,000. At last count, 655,000 refugees have fled into Bangladesh.
The refugees joined about 300,000 Rohingya already living there in makeshift camps, and quickly overwhelmed the existing medical care. Many had been shot, slashed, blown up, and raped.
"They started busing them up here," Kelley said. "We were up to our knickers."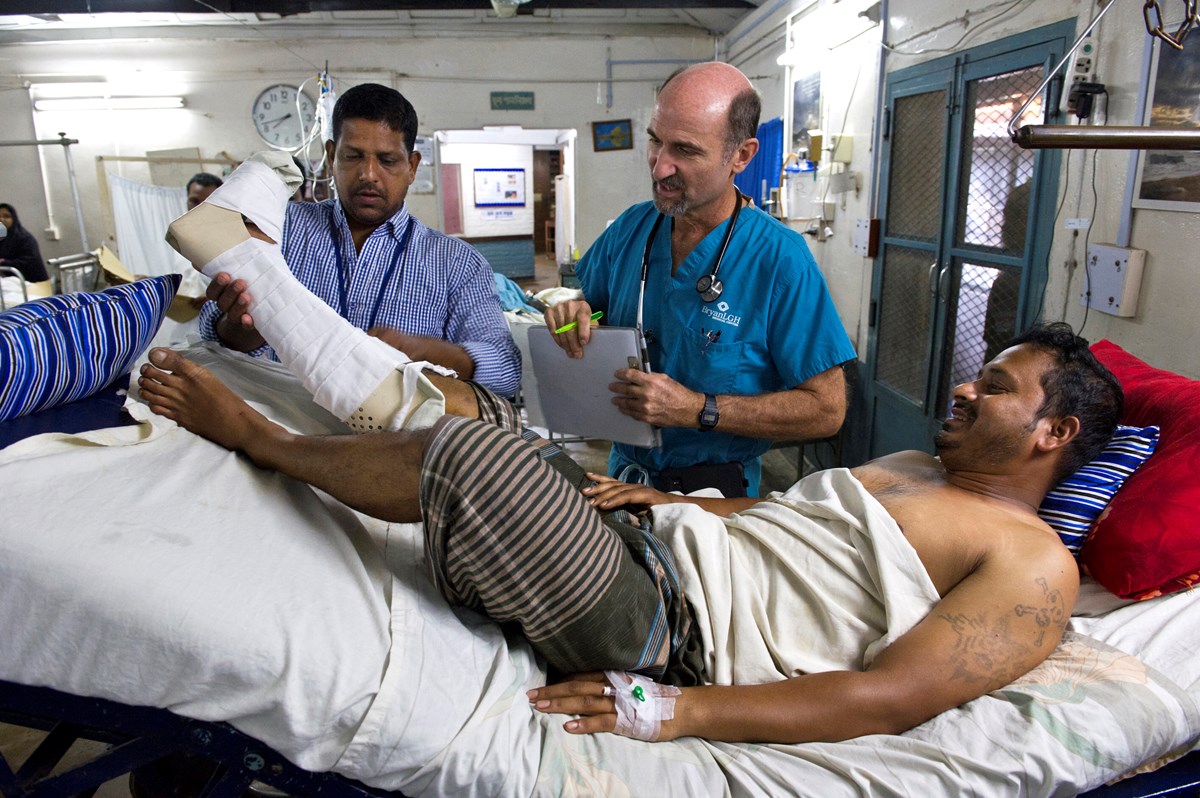 Image: Chuck Bigger Photography
The three doctors and seven nurses at Memorial Christian had just two hours between the MSF phone call and the first ambulance. Patients came in with missing limbs, gunshot wounds, infected cuts, and broken bones.
Two days in, there was no sign that the tide of wounded victims was going to slow. Even working around the clock, Memorial Christian staff had to turn away the majority of the MSF referrals.
"On Sunday, we had to have a team meeting to say, 'This problem is massive and it's not going away. How in the world are we going to deal with this?'" Kelley said.
Surprise blessing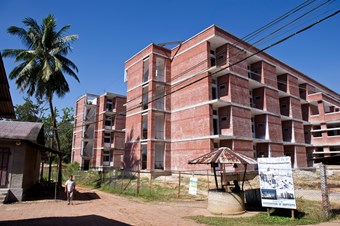 Being able to deal with the problem at all was an unexpected blessing for the Memorial Christian team.
The hospital was established 52 years ago, a response to a team of Baptist missionaries that had lost three members in 10 years to illness. The third was a teenage girl who died from complications related to appendicitis.
Their sending organization—the Association of Baptists for World Evangelism (ABWE)—was aghast.
That shouldn't be happening, the team decided. Given there was need among both the missionary and indigenous population, they decided to start a hospital.
ABWE "carved out of the jungle" a 46-acre hospital compound, which includes housing for about 30 expatriates and 350 national workers, said HG, ABWE director of South Asia. (Since he travels often in closed countries, he asked to be identified by initials.)
In addition to hospital personnel, the campus houses staff who translate literature, support communities of faith, help operate about 70 area schools, and assist with agriculture and community health programs.
The 65-bed hospital serves millions: 2 million everyday patients who live within 15 miles of Memorial Christian and 10 million who live within a 60-mile radius and depend on the hospital for its intensive care and specialty surgeries.
"We've seen about 50,000 patients a year," HG said. The hospital's three surgeons perform about 2,000 surgeries and deliver 1,700 babies—more than 500 of those by cesarean—annually.
The spot the team had chosen—and therefore where the hospital was built—was in Malumghat, just 21 miles from the Myanmar border. It's almost exactly the center point between where missionaries and translators Adoniram Judson and William Carey worked in the early 1800s.
"The work of those two men made ripples, like in a pond," Kelley said. When the original ABWE missionaries asked which part of then-East Pakistan was in the most need, other agencies pointed them to southeast Bangladesh—the gap between the sets of ripples.
The location also ended up being 30 miles north of the Rohingya camps, which have been around since at least the 1990s when about 250,000 fled severe oppression in Myanmar, only to be forcibly repatriated in the early 2000s. By 2017, 300,000 had found their way back to Bangladesh.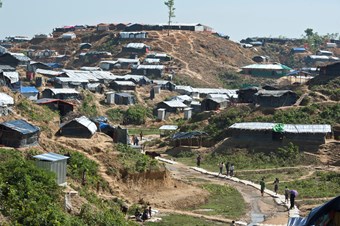 "I started hearing about these people before even coming here," Kelley said. They're one of the two dozen or so unreached people groups in the area the hospital serves. "My family and I got here in 1996, and pretty quickly got around to asking, 'So can we go down to the refugee camps and visit those people?'"
No way, they were told. The government is not in favor of Rohingya people or Christian evangelists; contact between them was forbidden.
"As an organization, we were shut out from them for the last four decades," Kelley said.
But Memorial Christian is the only place equipped and licensed to perform surgeries in the area. With thousands of wounded Rohingya overwhelming the temporary tent hospitals, there was no choice but to send patients to "the highly respected but in many ways—due to its Christian name—very reviled" hospital.
It's amazing how God has used "wars and rumors of wars," said Kelley, referencing Matthew 24:6. "He brought the nations—trembling and bloodied and pathetic—to our doorstep."
Click here to read more.
Source: Christianity Today