He's become Mr. Hawk-tober.
Remember that fan who made the great catch on Justin Turner's game-ending home run at Dodger Stadium over the weekend? Guess what? He did it again.
Keith Hupp came up with his second homer souvenir in the NL Championship Series, corralling the ball Cubs star Javier Baez hit into the bleachers at Wrigley Field on Wednesday night.
"I'm still kind of a newbie at this ballhawking stuff," the retired policeman told The Associated Press in a phone interview from Chicago. "The only thing that's lightning strike-ish about this is that it's two in four days."
Hupp is 54, from Southern California and has rooted for the Dodgers forever. A season ticket-holder, he always sits in the outfield and has gotten 11 home-run balls this year.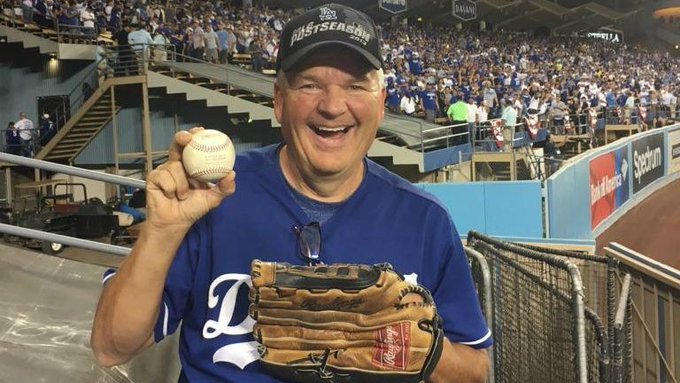 "I'm old, I've got gray hair and a bum shoulder," he said. "I do have a good glove."
Hupp said the Turner catch was easy. He scrambled toward a railing in the center-field stands and, with no one near him, leaned over to make the snag. The three-run drive in the bottom of the ninth inning gave the Dodgers a 4-1 win in Game 2, and Hupp presented the ball to Turner that night.
The grab became an instant highlight and made Hupp an internet sensation. The play he made to get the Baez ball in Game 4, that was more painful.
Hupp was close to the top row of the left-field seats — above the noted ballhawks patrolling Waveland Avenue — when Baez connected in the second inning. The ball hit a back railing and caromed into a swarm of fans, beneath a TV camera stand.
"Everyone was about half my age, but I pounced. I'll pounce if there are no kids around," he said.
"I grabbed the ball and tried to tuck it in, like a football," he said. "I got piled on pretty good, I could feel a couple guys trying to rip it out of my glove. It felt like I got a cracked rib."
Hupp planned to be at Game 5 Thursday night with Los Angeles holding a 3-1 lead. One more Dodgers win and he'd get a chance at the ultimate prize.
"I only started doing this stuff a few years ago, after I retired," he said. "But I do know that catching a home run ball at the World Series, that would be the holy grail."
Source: Associated Press