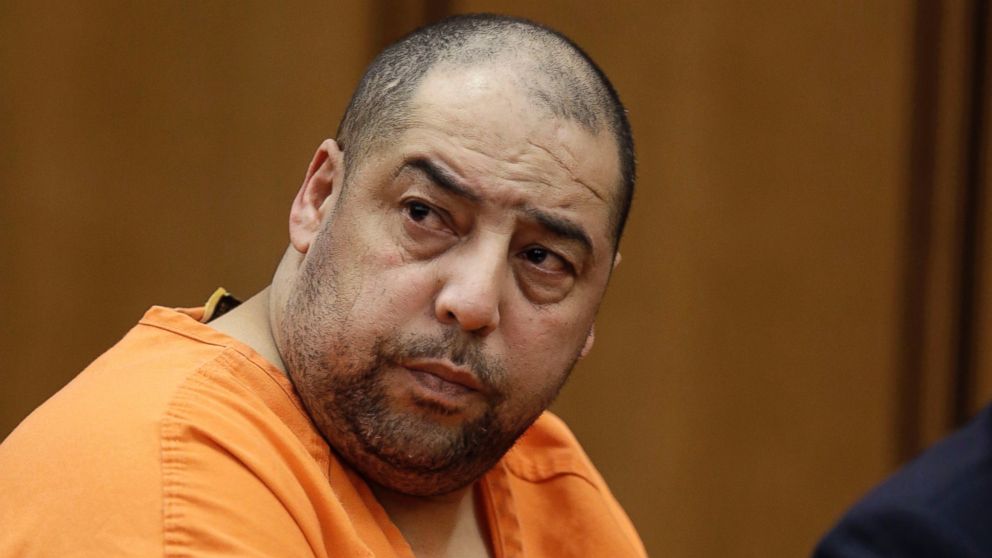 A sex offender accused of killing two women more than 15 years ago and raping children pleaded guilty on Monday to hundreds of charges, crying when some of his surviving victims addressed him.
This Monday, Dec. 2, 2013 file photo shows Elias Acevedo during his pretrial hearing in Cleveland. Tony Dejak/AP photo
"I'm not a monster. I feel a lot of remorse," Elias Acevedo said in the hushed courtroom as some of his child-rape victims, now adults, and relatives of the women watched, some wiping away tears. "I love you all, and God bless you."
Acevedo sobbed into a tissue as three rape victims clutched each other and addressed him in front of the judge: "You robbed me of my childhood," one victim said. "You hurt so many people."
Acevedo, 49, agreed to plead guilty to 297 counts, including murdering the women and kidnapping and raping children. He accepted a life prison term under the plea deal.
The two 20-years-to-life sentences for aggravated murder and sentences for other crimes total 445 years, the judge said.
The murder charges involve a Cleveland neighbor, Pamela Pemberton, who was killed in 1994, and 18-year-old Christina Adkins, who was pregnant when she disappeared in 1995.
Acevedo also was charged with rape and sexual assault involving attacks on minors, some dating back more than 25 years. He folded his cuffed handed together as Judge Michael Donnelly read the terms of the plea deal and explained it.
Acevedo's case is the latest among a group of high-profile cases involving violence against women in and around Cleveland.
Authorities re-examined the disappearances of women in the city following the escape of three women held captive for a decade in the run-down home of Ariel Castro.
The prosecutor's office said Acevedo most recently lived about a block away from Castro, who kidnapped the three women when they were in their teens or early 20s, imprisoned them in his home and raped them repeatedly, fathering a child with one of them.
The women escaped on May 6 while Castro was away from the home. Castro killed himself in prison on Sept. 3, just weeks into a life prison sentence.
At Monday's sentencing, FBI agent Andrew Burke said investigators reopening missing-person cases in the area began to focus on Acevedo during the summer based on discrepancies in earlier law enforcement interviews, his sex crime conviction and tips.
Acevedo, faced with the mounting evidence, admitted killing the women after authorities agreed to skip the death penalty if he detailed the crimes, Burke said. Acevedo described the killings and pinpointed the locations, all information consistent with details developed by investigators, Burke said.'
SOURCE: THOMAS J. SHEERAN
Associated Press