AUTHOR SPOTLIGHT: Lutisha Lovely
Lutishia Lovely is an award-winning author of sixteen novels, six of which are romance titles written under her alter-ego pseudo, Zuri Day. In addition to her wildly popular Hallelujah Love Series, Ms. Lovely has a hot new trilogy called "The Business" about a soul food dynasty where delicious drama and sizzling scandal is always on the menu!
Prior to becoming a full-time author, Lutishia enjoyed many different careers. They all, however, had one thing in common - they all were linked into a "world of words". From administrative assistant to radio personality to actor to managing editor and senior writer for a holistic magazine,words have always been the magic that made Lutishia's world go 'round. Probably one of the spins that would most surprise readers is the fact that Lutishia was a rapper! That's right, for a short stint in the 90s, Lutishia was billed as "The Rhaptress" (a combination of a rapper and an actress), and toured with other singers and musicians throughout southern CA. She's happy now to beat out a rhythm on her keyboard...songs in the key of "writer" that she hopes will inspire and entertain!
---
About the Book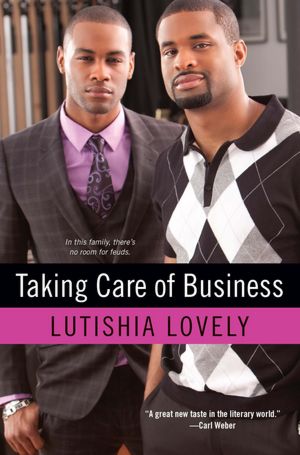 Taking Care of Business
This title will be released on March 27, 2012.
Lutishia Lovely cooks up a riveting portrait of a trailblazing family expanding their booming soul food dynasty. . .
After a long bout of misfortune, betrayal, and broken hearts, the Livingstons and their soul food empire are thriving. Toussaint Livingston is the Food Network darling, Malcolm Livingston's BBQ Soul Smoker is still the toast of QVC, and Bianca Livingston's brainchild TOSTS--Taste Of Soul Tapas Style--is a sizzling sensation on L.A.'s Sunset Strip. It seems that nothing can stop the progress of this third generation--until a dish called trouble gets added to the menu.
Jefferson Livingston is the only sibling who feels he hasn't made his mark, a fact for which he partly blames Toussaint. But with a recent promotion and a sexy new assistant, Jefferson is ready to show his cousin just how big a mistake he made. Then a fire breaks out, an old enemy rears his ugly head, and a stranger threatens the family's legacy. Jefferson and Toussaint must now work together to keep the dynasty from falling apart. Can they put their differences aside long enough to take care of business? There's only one way to find out. . . .
Paperback: 320 pages
Publisher: Dafina; Original edition (March 27, 2012)
ISBN: 978-0758265807
Price: $15.00