The stock market repeatedly rose to records in a year that was remarkable for its lack of volatility. Technology stocks dominated the gains as investors favored growth stocks over value. Foreign stocks performed even better than U.S. equities. The price of oil sank then rose to two-year highs. And the digital currency bitcoin stole the show late in the year with a dizzying climb in price. 
A look at 10 charts that capture the markets in 2017:
1)  Despite records, a quiet year
The stock market has been extraordinarily quiet this year. The Standard  & Poor's 500 index, the benchmark used most often by professional  investors, has had a total of just 8 days this year where it has moved up or  down by at least 1 percent. That's the fewest number of such days in any year  since 1965.
2) U.S. markets rock, overseas markets roll
U.S. stocks had a strong year in 2017, but many overseas did even better.  Brazil's Bovespa, India's Sensex, and Germany's DAX all set record highs and Japan's Nikkei 225 rose to its highest level in 25 years.
3) The ups and downs of going public
Some of the best-known companies that went public in 2017 had a rough year. Snap, the company behind the Snapchat app, started off strong but quickly weakened after some disappointing results. Meal kit maker Blue Apron tumbled as investors worried about competition from Amazon. Streaming video device maker Roku fared much better.
4) Bitcoin lifts off
Bitcoin has been on a wild ride this year, mostly up. While it's still not widely used as a digital currency to buy stuff, as originally intended, more and more people are buying it in hopes it will continue to increase in value. Many finance pros say it's a speculative bubble waiting to burst. The technology that underlies bitcoin, a kind if transaction ledger called blockchain, does have many fans, however.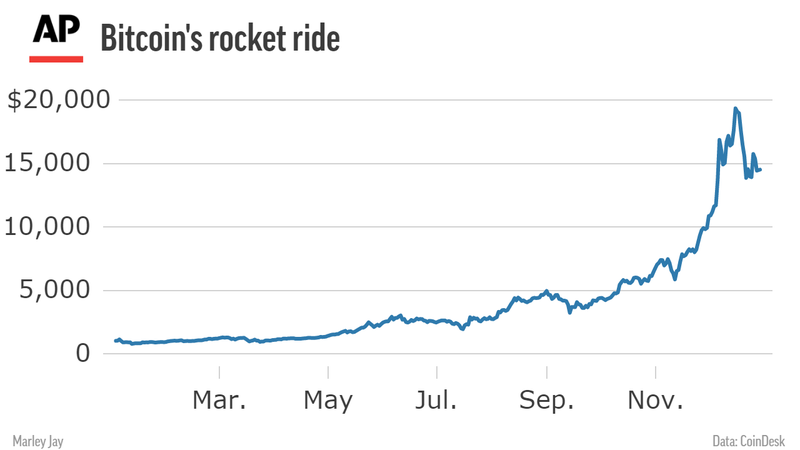 5) Oil slips and soars
The oil market experienced a tale of two halves in 2017. Prices fell below $45 a barrel in the spring as investors doubted that a production agreement between OPEC members and other nations would do enough to reduce the glut of oil on the market. But by September the price of oil was in a bull market, and as the year drew to a close U.S. benchmark crude oil was trading around $60 for the first time since the middle of 2015.
6) Stocks get pricey
Stocks are expensive as they have been since the end of the  dot com bubble, according to a measurement developed by Yale economist Robert Shiller. Shiller's cyclically-adjusted price-earnings ratio compares the Standard & Poor's 500 index to average earnings over a period of 10 years and adjusts for inflation.
7) Amazon vs. department stores
Amazon once again reeled in one of the biggest gains of any S&P 500  company this year. Its sales kept growing as it entered the grocery business by buying Whole Foods. Meanwhile, department stores continued to struggle. The S&P index of department stores hit an eight-year low as Macy's and J.C. Penney plunged.
8) Tesla, GM duke it out
Tesla's market valued soared past General Motors over the summer, which briefly made the electric car company the most valuable U.S. automaker.  But as Tesla had trouble manufacturing its lower-cost Model 3, its stock price  stumbled and GM took the lead again.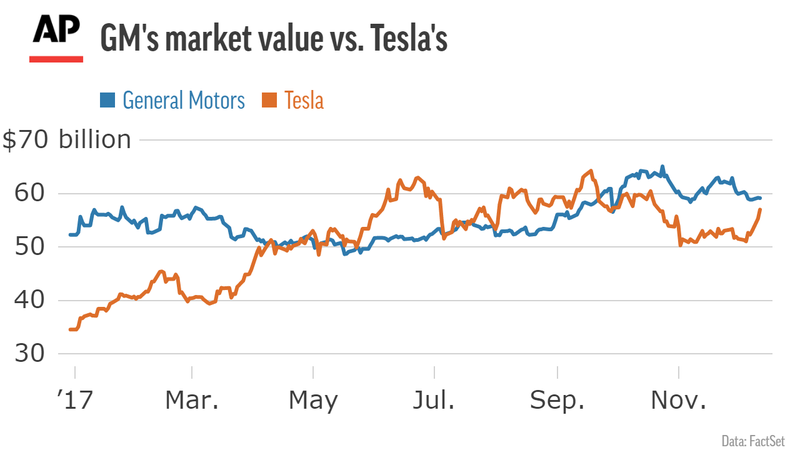 9) A good year for growth stocks
Major economies around the world, including the U.S., Europe, Japan and emerging markets, did better than analysts expected in 2017. Investors consistently picked stocks that are more closely linked to economic growth and were less interested in safer "value" stocks.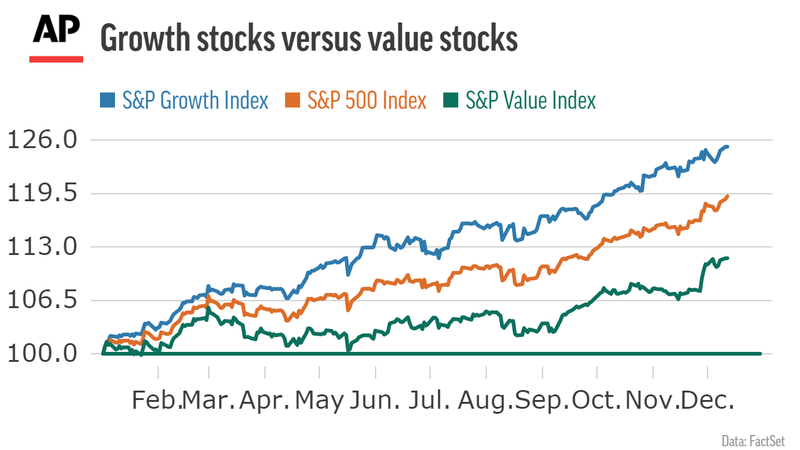 10) Tech soars, energy not so much
Technology companies are dominating the stock market in a way they haven't since the dot com bubble went bust, while energy companies have shrunk dramatically since oil prices began to plummet in 2014.
Source: Associated Press